The music industry has always loved a good comeback story. In 1968, Elvis Presley made a splash on national television with a concert special that rejuvenated his sagging career overnight. Another comeback is playing out in the music industry right now, one that no one could have foreseen.
After bottoming out in 2005, sales of vinyl LP records have posted 17 consecutive years of growth. Vinyl LPs accounted for 43% of all album purchases in the U.S. last year across all formats, both physical and digital. Among physical formats, vinyl LPs nabbed 54% of the market and easily outpaced both CDs and cassette tapes.
While streaming and single-track downloads continue to dominate music consumption overall, vinyl LPs have once again become a sizable industry category. Sales of vinyl records reached $1.5 billion worldwide in 2021 and are expected to top $2.6 billion by 2027, a solid CAGR of 8.4%.
The digital music era dawned in the early 1980s with the compact disc and yet analog LPs are now a hot growth category 40 years later. Why is this happening? In the blog that follows, we explore some of the consumer behaviors driving the resurgence of vinyl LPs and how record labels can capitalize on this trend.
Vinyl Records Connect with Consumers Three Ways
Surveys reveal that today's LP buyers are in search of something that digital downloads cannot match. The multi-sensory experience of purchasing, opening and listing to music in the form of a vinyl record is proving irresistible to a new generation of music lovers.
1: The visual appeal of vinyl LP record packaging
Digital music downloads are undeniably convenient but they are also invisible. Vinyl record packaging, on the other hand, offers a blank canvas for creativity and visual appeal. Album covers with museum-quality original artwork, elaborate print finishes and intricate finishing details blur the line between musical and visual arts.
Music-industry blogger Alex Lavoie summed it up in his piece titled Album Cover Art: The Ultimate Guide For Musicians. "When it comes to album cover art, people will judge your album by its cover. Your music won't attract attention without good album art in this highly visual world."
The research supports Lavoie's point. According to Luminate Data's U.S. Year-End Music Report for 2022, the number two reason that music lovers give for purchasing vinyl LPs is "I like having the physical records to look at." Indeed, that visual appeal must be powerful. Roughly 50% of LP buyers surveyed by Luminate don't even own a record player.
Opportunities for record labels: Elaborate printing techniques such as cold foil, metallic ink, embossing, debossing, spot gloss and lenticular effects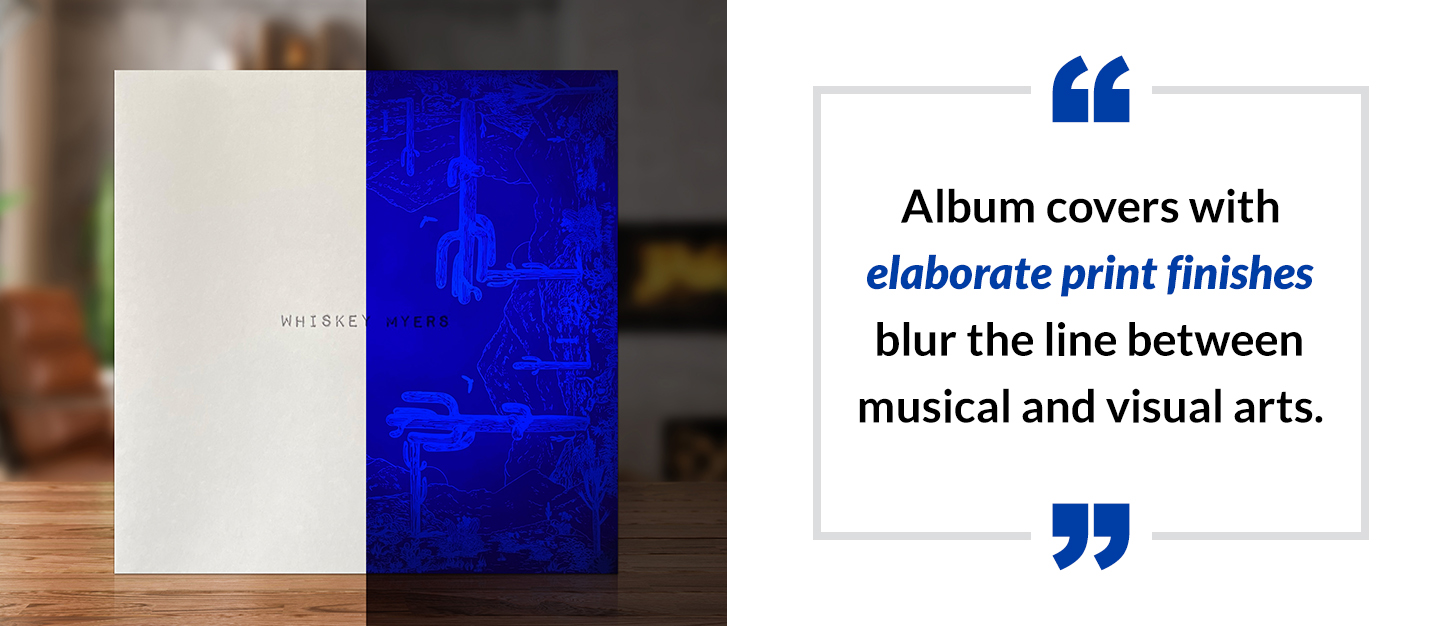 2: The tactile experience of listening to a vinyl record
Ever since digital recordings were first introduced, fans of vinyl LP records have maintained that analog music has a warmer, more natural sound than digital. The difference is about much more than sound quality, however.
The entire experience of listening to a vinyl record is analog. Opening the seal on the album package after purchase. Removing the record sleeve from the album cover. Gently sliding the LP from the sleeve, setting it on the platter and slowly lowering the stylus. The soft pops and clicks in the background as the music begins to play.
The entire experience is tactile and that includes the album packaging itself. Liner notes – filled with musician credits, song lyrics, political messages and artistic back stories – were a form of social media in the 1960s and 1970s. As music went digital, liner notes disappeared and the music-listening experience became sadly one-dimensional.
Today's album buyers are looking for something more. LP lovers have rediscovered the captivating experience of listening to an album while following the lyrics, reading about the events that inspired a certain song, or learning about the studio musicians on the recording. Could it be that the golden era of album packaging is actually just beginning?
Opportunities for record labels: Detailed liner notes, posters of the artists, booklets and bonus content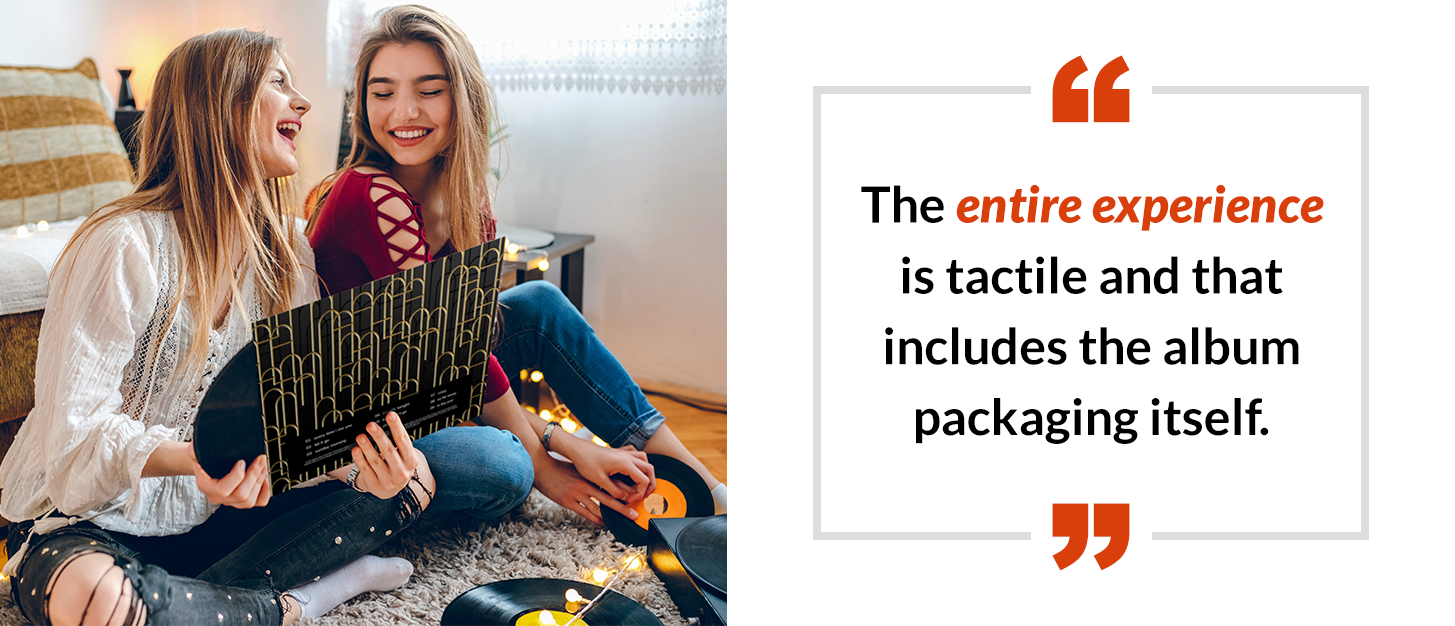 3: The collectability of vinyl record albums
More than any other music recording format, vinyl record albums are inherently collectible for a variety of reasons.
Record packaging often includes bonus features like posters and stickers, items that are impossible to deliver via digital download and too large for a CD case.

Records can be pressed using colored vinyl or with photos embedded in clear vinyl.

The sheer physical size of a vinyl album allows for bold, imaginative artwork on record jackets and liner notes.

Artwork, photos and notes are large enough to be fully appreciated, something that was never a strong point of CDs.

And, there's the element of tangibility and permanence. A digital download may be listened to once and forgotten. A vinyl record album is a permanent memento of the purchase and listening experience.
Interestingly, this collectability doesn't just apply to classic rock albums from the Rolling Stones and Beatles. Record labels are discovering that albums released during the CD-only era of the 1990s are proving extremely popular as re-releases in the vinyl LP format.
Opportunities for record labels: Special editions, represses and re-issues, colored vinyl, picture discs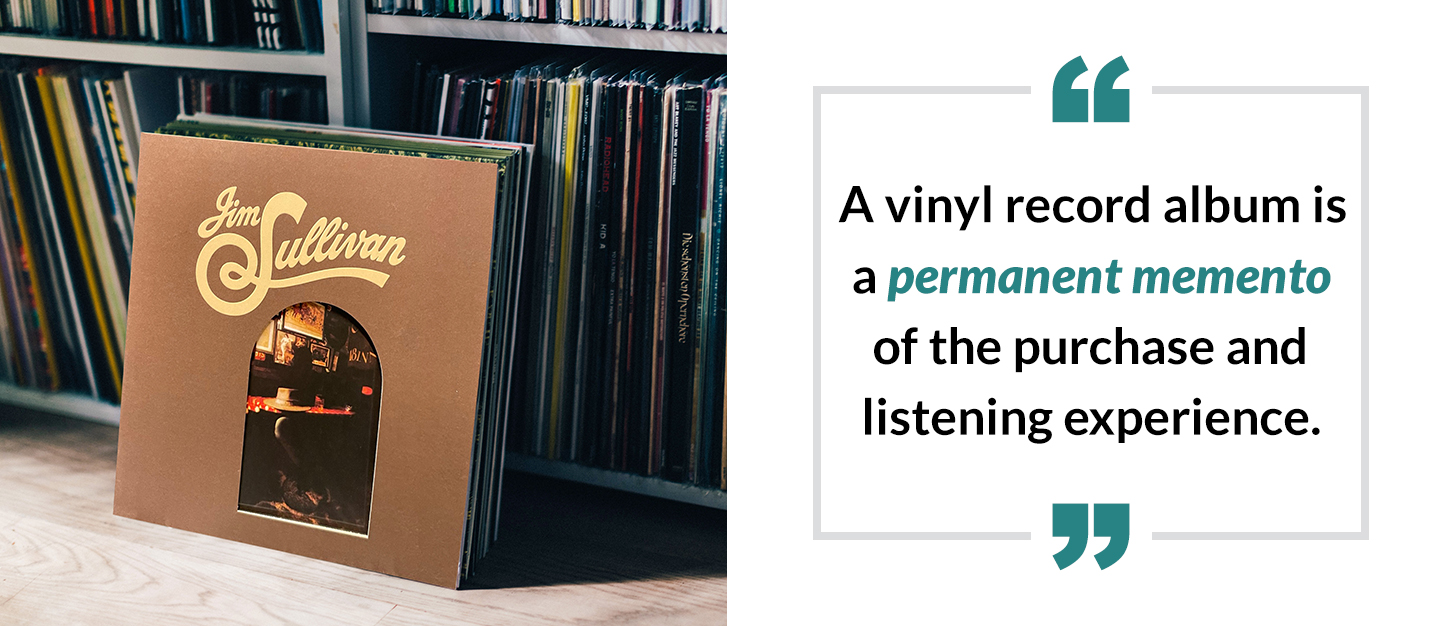 Taylor: Industry Expertise Primed for LPs
Taylor is a leading provider of media packaging solutions for the music and gaming industries with a decades-long reputation for high-touch customer service. This expertise extends to the production of vinyl record album packaging.
Our diverse capabilities and vast production footprint allow Taylor to deliver vinyl album packaging materials with a speed to market that cannot be matched by other providers. Everything you need to take an artist to market can be sourced quickly and efficiently through one marketing partner:
Folding carton album jackets

Record sleeves and liner notes

Cardboard album cases

Direct mail campaigns

, and more
Want to bring your artists to market faster with album packaging that stands apart from the crowd? Contact Taylor learn more about our vinyl LP album packaging solutions.