Custom Packaging & Labeling Solutions
Communicate with labels and packaging.
Bring your products to market with packaging and labeling solutions created specifically for you and your business. The right label, carton or package can make all the difference.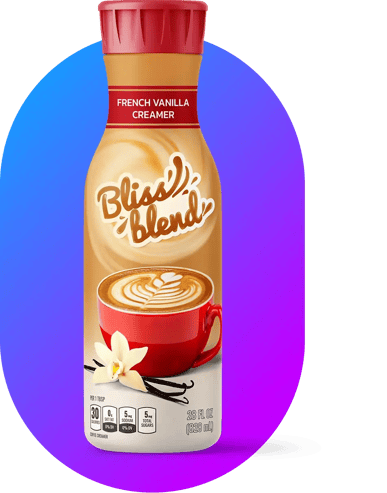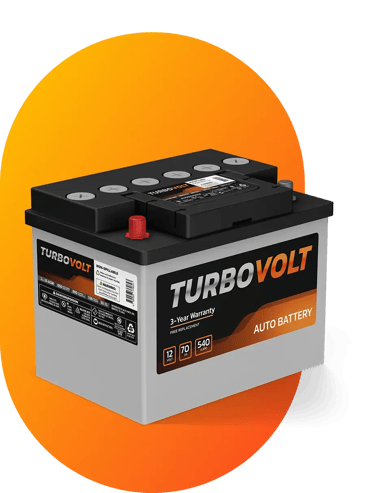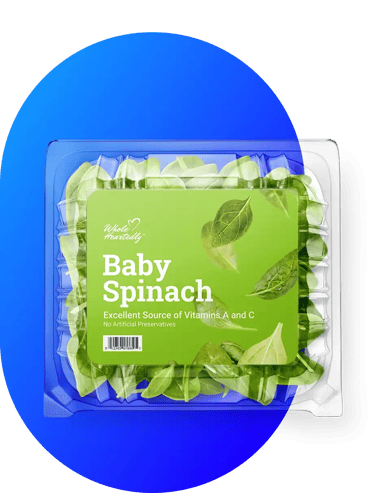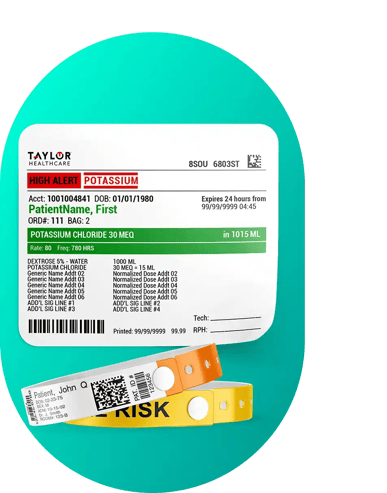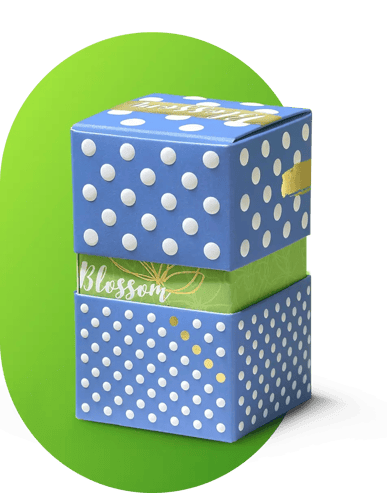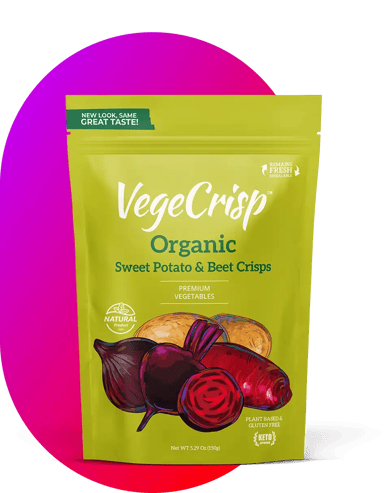 Top brands have trusted Taylor with their packaging and labeling for more than a century.
The Importance of Label Manufacturing
Labels shape the customer experience with your product. Choosing the right components means everything when it comes to performance, aesthetics and conveying information.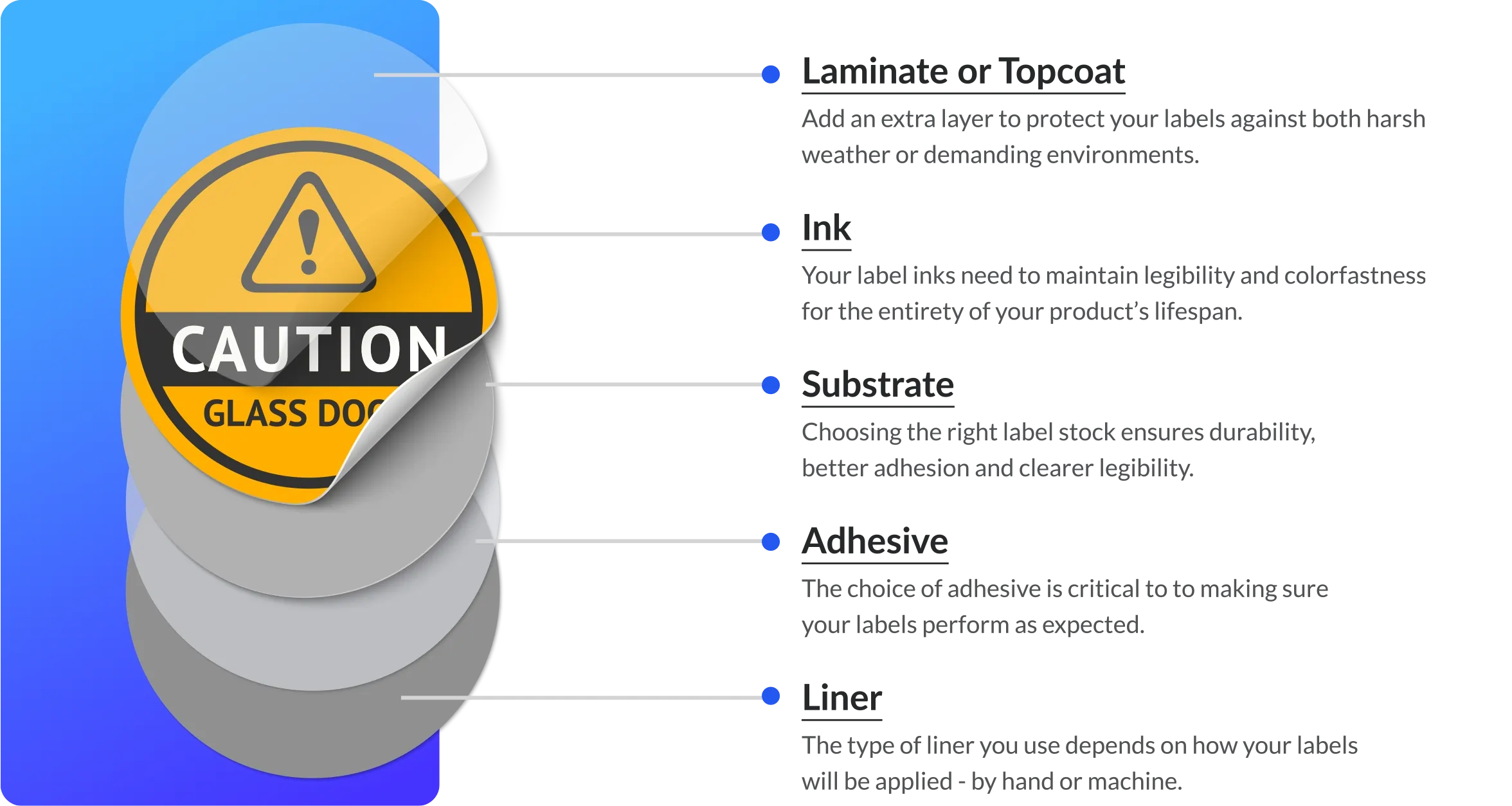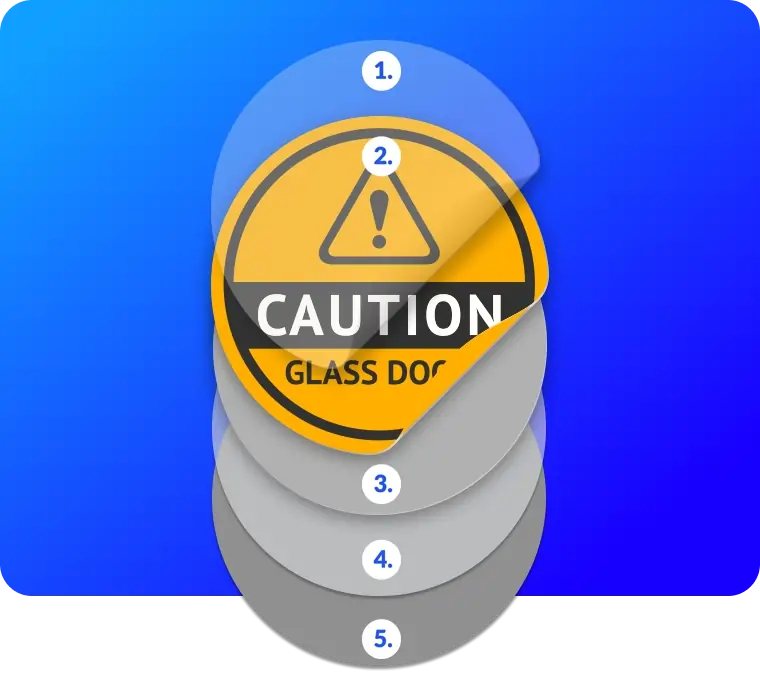 Add an extra layer to protect your labels against both harsh weather and demanding environments.
Your label inks need to maintain legibility and colorfastness for the entirety of your product's lifespan.
Choosing the right label stock ensures durability, better adhesion and clearer legibility.
The choice of adhesive is critical to making sure your labels perform as expected.
The type of liner you use depends on how your labels will be applied - by hand or machine.
Levels of Product Packaging
Packaging and labeling give you multiple opportunities to display the quality of your products and the care that goes into making them.
There are four levels you can put to use.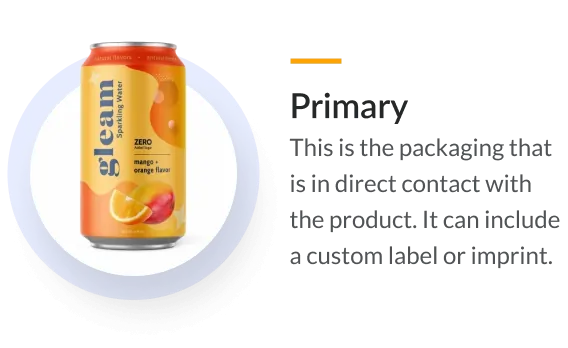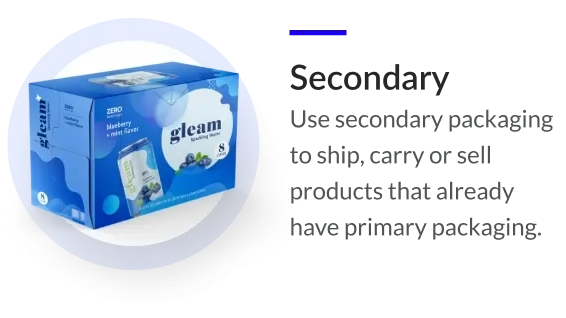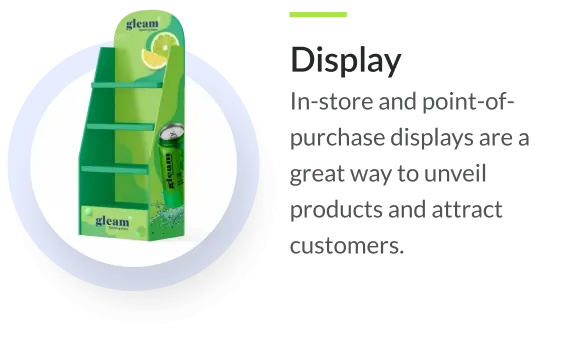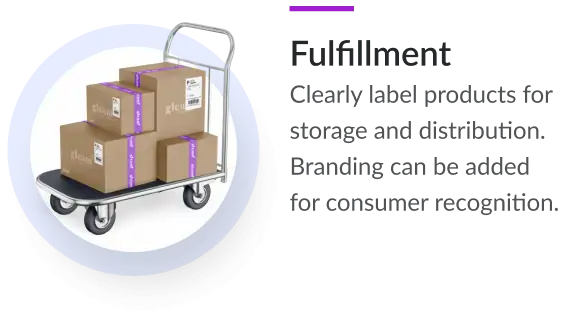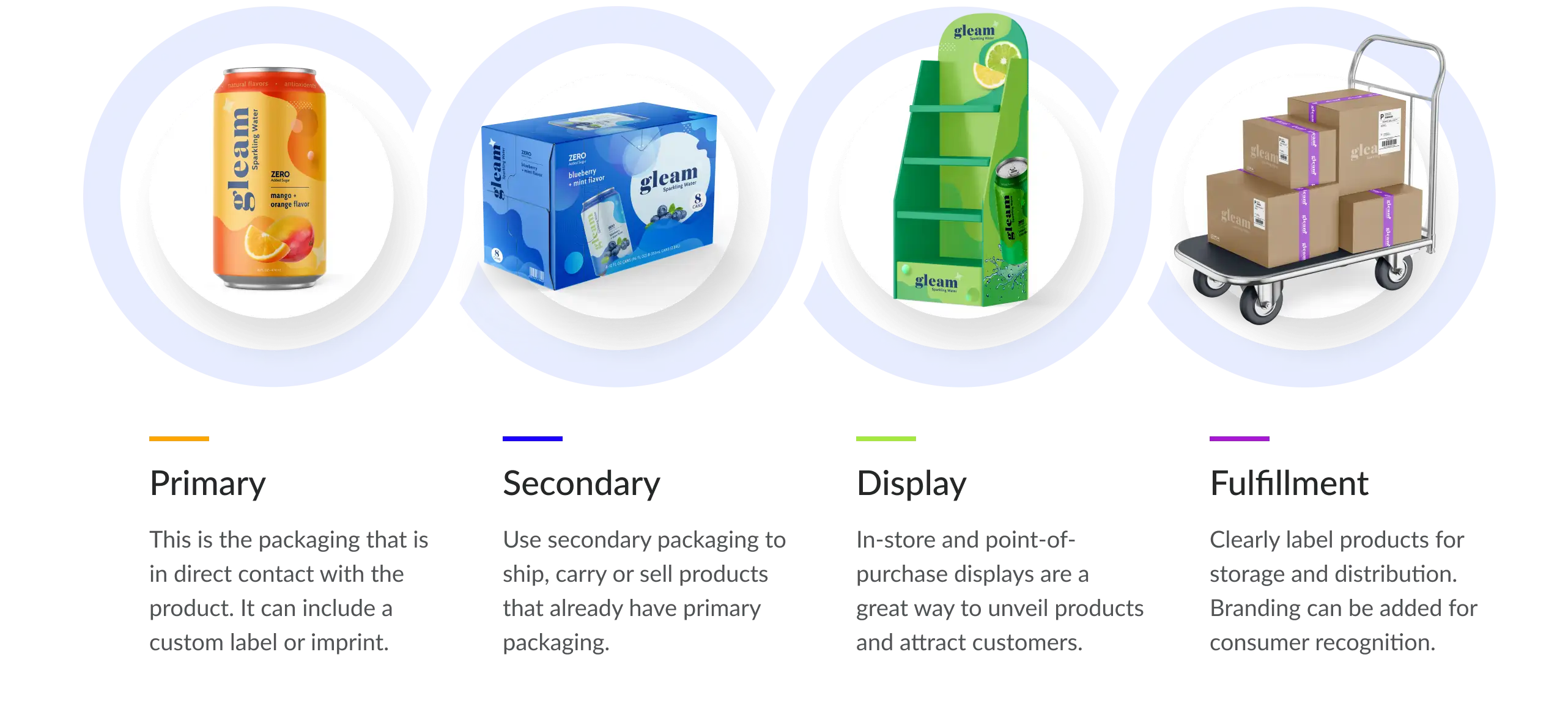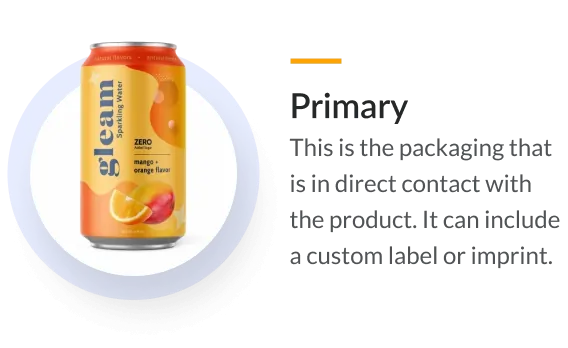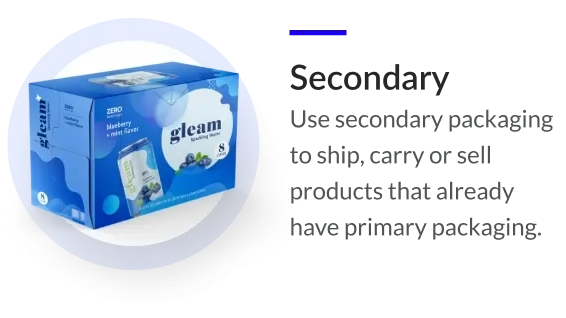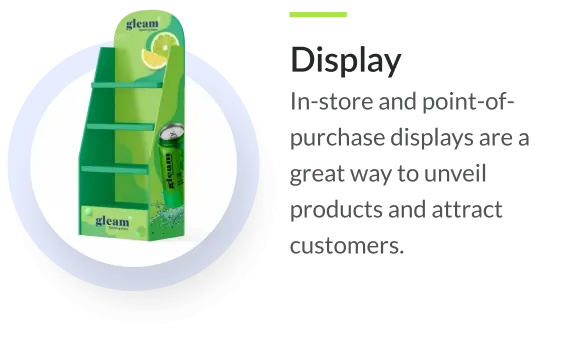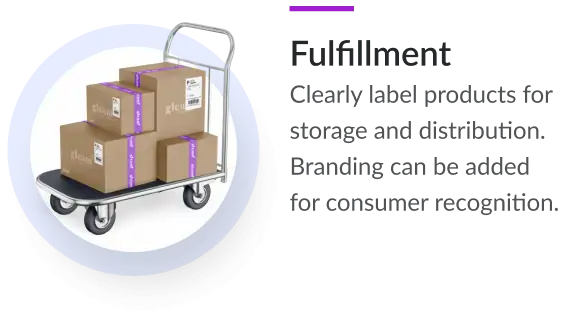 Labeling Solutions
Crafted with innovative technology and creative design. The right label makes a world of difference.
Cartons and Flexible Package Printing
Made to be memorable and build brand recognition. Showcase your products in the marketplace.
Labeling Programs
Engineered to be dependable and compliant. Increase efficiency and eliminate line-down risks.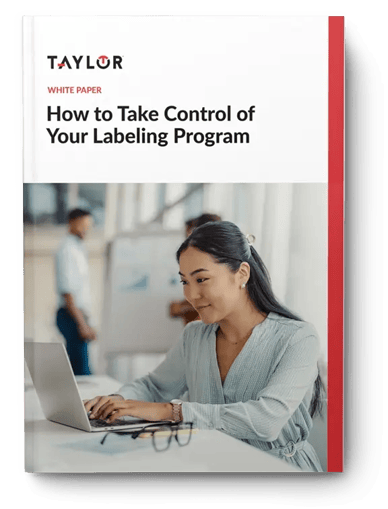 Take control of your
packaging and labeling.
Stop chasing down orders and quotes from multiple vendors. Download our white paper and see how consolidating your packaging and labeling programs gives you centralized control.
Toro Saves $25,000 with Lower Scrap Rates
Grafilm® IML Technology Enhances Quality and Reduces Costs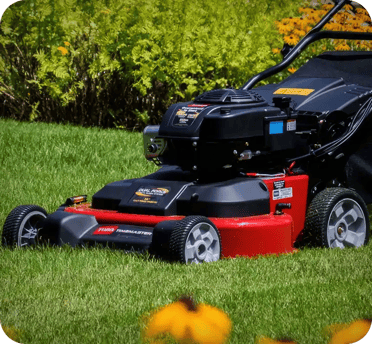 Toro was experiencing high scrap rates and long cycle times with their in-mold labels. Production costs were going up and manufacturing was slowing down.
Switching to Taylor's Grafilm IML process drastically reduced Toro's scrap rate.
Improved performance and durability meant a better, longer-lasting label.
The IML solution allowed Toro to shorten their cycle times and enhance efficiency.
Packaging and Labeling Resources
Your source for success stories, design and engineering tips, and all things packaging and labeling.
Recommended
Related Packaging and Labeling Solutions
Create lasting customer experiences with our award-winning services and solutions.
Frequently Asked
Questions
How can Taylor help us with our packaging and labeling programs?
Taylor understands the vital role that labels play in a production process. Companies in a wide range of industries have entrusted their labels to Taylor for more than 100 years — and with good reason. Our team of labeling experts works closely with clients to identify the specific performance requirements of each label and then recommends ways to improve label performance, reduce obsolescence, lower total costs and enhance operational efficiencies. When combined with Taylor's technologically advanced production network, we are able to deliver a comprehensive labeling solution that creates operational efficiencies and eliminates line-down risk.
How does Taylor go about identifying performance requirements?
Taylor has a well-documented process called MAP3 (for Methodical Assessment of Printed Parts and Processes) that lowers the total cost of label ownership and reduces risk by increasing compliance with industry labeling regulations.

Our highly trained team of technical consultants will analyze the fit, form and function of all printed production parts with the goal of driving cost reductions via a number of process improvements. We'll look for opportunities for material consolidation, re-engineering and substitution as well as die size reductions and migration to technology solutions using six clearly defined stages:

Pre-assessment data gathering
Plant-level assessment
Data entry/specification organization, including samples engineering prints and performance requirements
Cost reduction project identification
Formalized cost savings report
Implementation
Can you tell us about your production capabilities?
We pride ourselves on the wide selection of materials, substrates and adhesives we use to ensure your order is produced to your exact specifications. Our state-of-the-art digital, flexo and screen printing capabilities give us the flexibility to deliver cost-effective print runs of any size or complexity.

Our on-demand digital production enables efficient, low-volume runs of highly complex label designs. Your labels won't become obsolete in a warehouse. They'll be produced as needed and can be easily updated through simple drawing changes.

We also offer thin and direct thermal linerless labels that help eliminate waste, reduce the number of SKUs and roll changes you need, and lower storage and distribution costs.
Do you have stock labels available?
Absolutely. Taylor has one of the largest selections of stock labels in the industry, offering a wide array of options to meet all your needs. We provide same-day shipping for all stock orders received prior to our shipment cutoff time.

Thermal transfer labels
RFID-enabled labels
Direct thermal labels
Cut-sheet, laser and inkjet labels
Integrated form-label constructions
Impact/EDP/pin-fed labels
What are your methods for keeping us in compliance?
We realize the importance of meeting regulatory requirements in your label designs and finished items. That's why Taylor collaborates with UL, cUL, CSA and ANSI to ensure compliance based on industry, usage and state standards.

Taylor's experienced and knowledgeable team can support your individual needs. We require all of our material vendors to update material compliance statements annually to ensure regulatory statuses are current. Additionally, we provide and offer support for REACH, RoHs, conflict minerals and California Proposition 65 for industrial label markets.

Whether you need certified materials, design compliance, a basic compliance statement or a Full Material Disclosure, you can count on Taylor to offer practical solutions to complex challenges.
Can you help us with inventory management?
Certainly. We offer world-class logistical capabilities for label programs of all types. We deliver sophisticated, mobile-ready vendor managed inventory services that eliminate stock-outs, maintain inventory to meet spikes in demand, and reduce the total cost of ownership of each component part.

Data-driven demand forecasts are utilized to minimize on-hand inventories while optimizing least-cost production models. Storage and fulfillment are managed through our nationwide network of in-house distribution centers. Comprehensive billing and reporting options provide clear visibility to costs, inventory levels and usage patterns. The result is a complete VMI solution that makes label program management a source of competitive advantage for your manufacturing operation.
Do you have eco-friendly packaging and labeling options?
Environmental sustainability is no longer a nice-to-have. Your customers expect it. Taylor's new earth-friendly label stocks give you an opportunity to advance your sustainability goals while also improving operational efficiency and reducing costs.

Our labeling experts engineered two products that enable you to protect the environment and grow your bottom line.

The first is thin-stock labels. Construction is up to 50% thinner, and you'll use 27% fewer greenhouse gases and create 26% less waste while streamlining your manufacturing operation with fewer roll changes and lower storage and distribution costs.

Next up are our linerless direct thermal labels. These eliminate the end product that is ordinarily thrown away. Liner waste is reduced 100%, rolls are 75% longer and labels can be cut to exactly the right length for every type of label needed, reducing the number of SKUs in use.
Be Authentic and Memorable
Packaging and labeling protects, informs and relates to your customers. Count on Taylor to deliver your brand's message and values.