Destination marketing is selling the experience of traveling to a location. It should be safe and seamless, even though the marketers rely wholly on partners to deliver the experience they sell.
The only ways to succeed are to communicate with intentionality and strengthen ties among the industry and community.
In this episode, we interview Melvin Tennant II, CEO at Meet Minneapolis, about the ins and outs of destination marketing after the tough year of 2020 and the emerging year of 2021.
Join us as we discuss:
The little-known discipline of destination marketing
Combining creativity with the data side of the business
Intentional communication with partners and with customers
How to deliver a seamless customer travel experience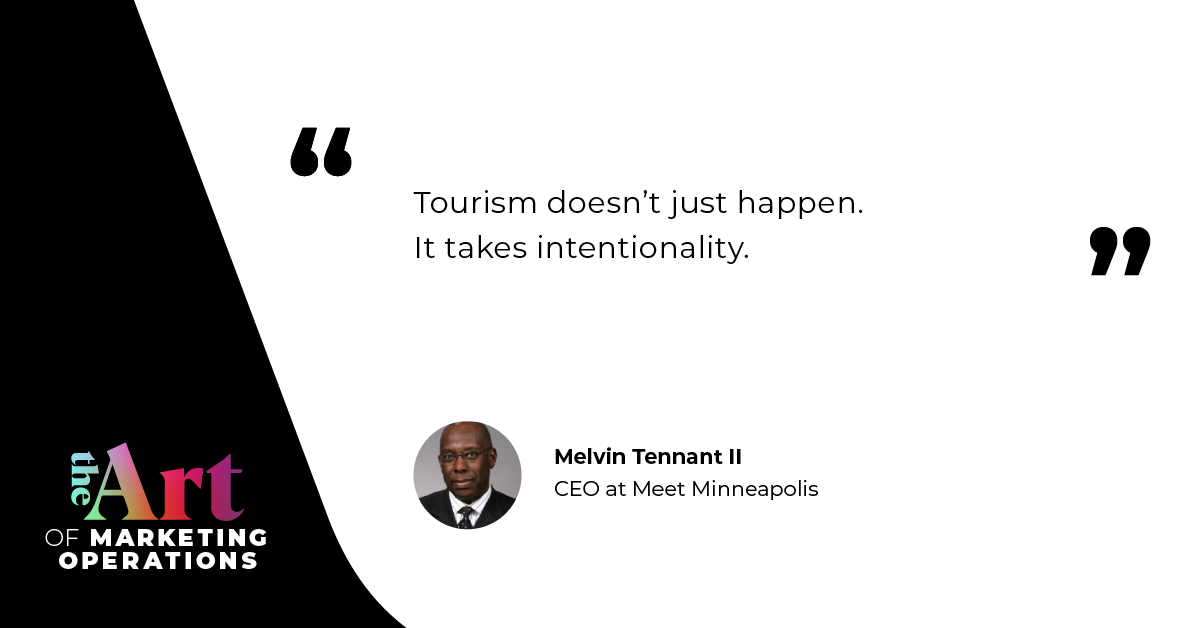 Navigating the COVID-19 pandemic
If you look at any major city, you can find an organization focused on marketing the city to various audiences. And while it may not have been what Melvin set out to do at the beginning of his career, he considers himself fortunate to be in the space, helping serve some great cities.
Spending a great deal of time marketing within Minneapolis, Melvin has competed against cities such as Denver, St. Louis, Kansas City, and Chicago over the years. But, after the COVID-19 pandemic began, that competition began to become a little more collaborative.
"For us, convincing visitors to come to us in the midst of COVID-19 was not just a Minneapolis issue, it was an industry issue." — Melvin Tennant II
The thing that got the industry through the past two years of uncertainty: communication. Because the business partnered with so many organizations, communicating safety concerns and keeping every step of the customer experience up to standard couldn't have been accomplished if Melvin was not communicating with, not only his partners, but competitors as well.
Dealing with customer concerns
Equally important to the communication between partnering organizations, Melvin shares some of the specific ways he was able to handle concerns around the COVID-19 pandemic and convincing customers as to why Minneapolis was the right destination for them:
City collaboration: Minneapolis and other cities came together to demonstrate their effective safety protocols for customers traveling from airplane, to taxi, to hotel.
Cleanliness certification: As a visual for concerned customers and another way to show the industry's high-level of concern, certification was obtained.
Transparency: Communicating with customers if COVID-19 concerns are found.
"It's all about making sure that we're communicating holistically about the ability to travel safely throughout a journey," Melvin explains.
Two pillars of the organization
For Melvin, what makes someone a skilled marketer doesn't necessarily equate to being a skilled salesperson, and vice versa. For this reason, he keeps these two pillars of his organization separate but collaborative.
"We make every effort to bring all of those disciplines together." — Melvin Tennant II
By keeping the two separate, constructive tension is created, leading to a deeper understanding of each other's role than if they had worked together. Melvin suggests keeping an eye open for opportunities to overlap the two departments anywhere you can. At the end of the day, it's about being intentional about educating your teams to get the most out of them.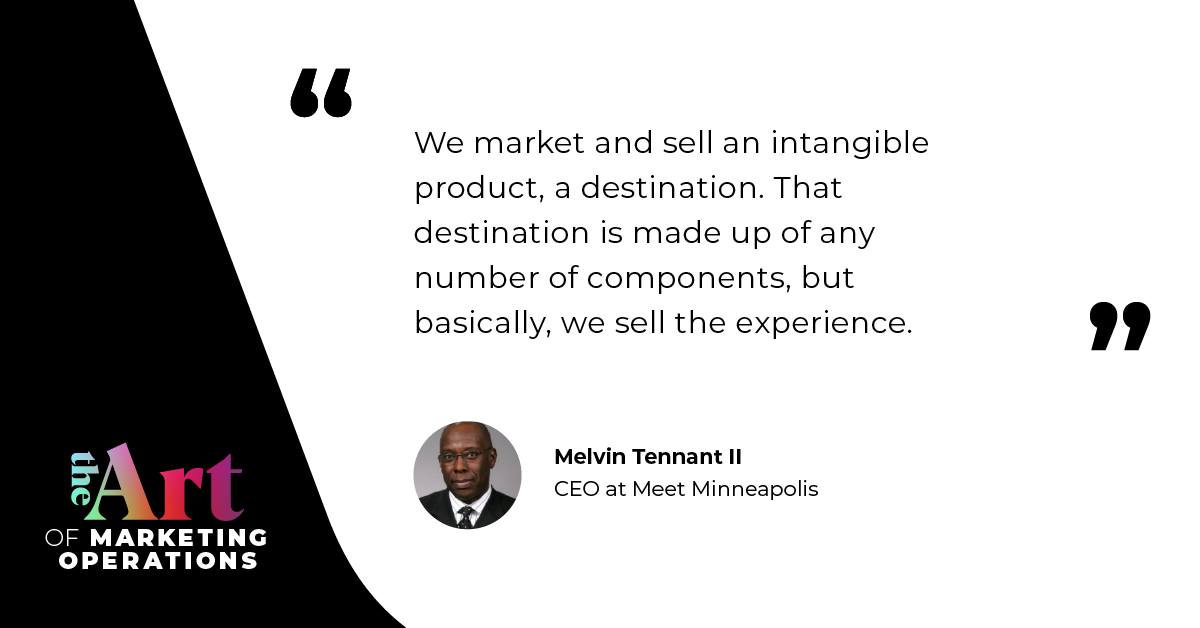 Data use in the organization
Everyone knows that we're swimming in data these days. How a company leverages that data, however, can always be a little different. For Melvin, most of it comes from outside sources due to all the great industry research sources available. Once the data is collected, Melvin's team goes to work:
"Our job has really been to consolidate that data, slice it and dice it in ways that it's actionable for our partner businesses." — Melvin Tennant II
The team then takes the data and uses it as a way to predict the lifecycle of each client through their journey.
A key takeaway
In any organization, communication is key. By staying connected with partner organizations and creating an internal team of marketers and salespeople that challenge each other, Melvin has been able to weather the storm that was the COVID-19 pandemic over the past two years — finding solutions along the way to problems that continue to benefit Mevin's organization to the day and into the future of 2022.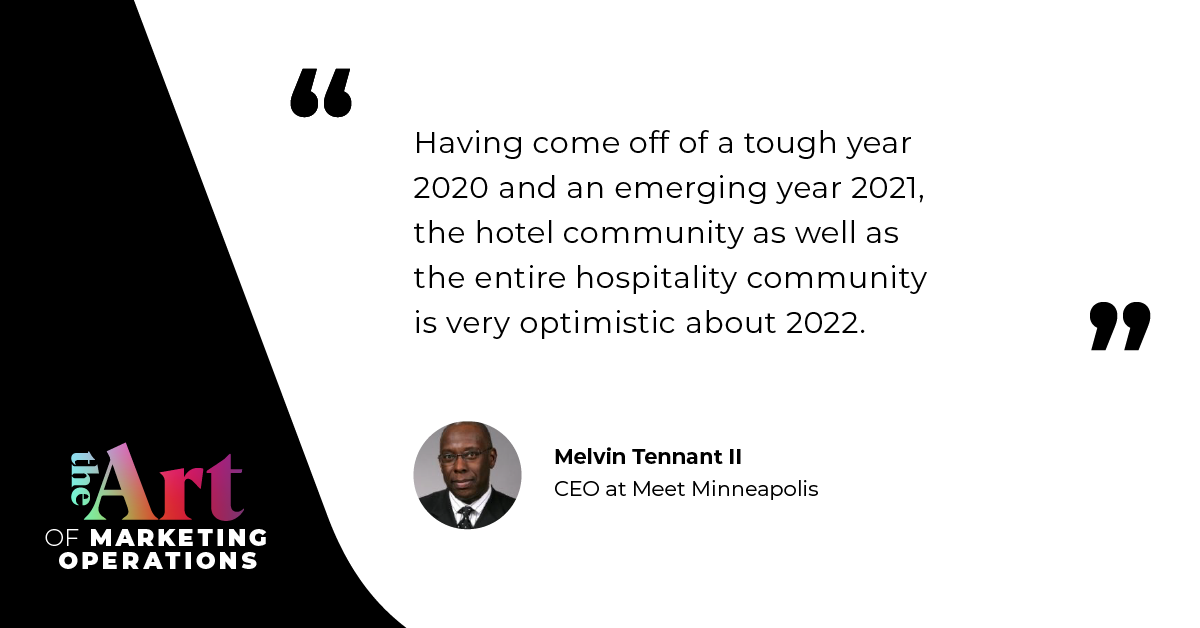 Listening on a desktop & can't see the links? Just search for The Art of Marketing Operations in your favorite podcast player.