Studies show signs give you the biggest bang for your buck
In ancient times, signs were a primary form of communication between merchants and prospective customers. Merchants in Babylon, Egypt, Athens, Pompeii and Rome used signs to identify their shops, promote prices and distinguish their businesses from competitors.
In our modern world, signs are so ubiquitous that you probably barely notice they're there. But signs are crucial to your business's success. Signs direct customers, remind them of your brand and inspire them to make daily decisions.
Research shows that about 90% of information sent to your brain is visual; that's why imagery is crucial if you want to connect with potential customers.
Because humans are visual, custom-made signs communicate powerfully with your audience because they combine attractive color and engaging text to create memorable messages that resonate.
Well-designed custom retail signs with stunning graphics increase brand awareness. And the more potential customers who know about your brand, the more they'll trust your services and the more likely they will purchase from you.
Survey Says
There's a significant amount of research that supports the efficacy of well-designed signage. There's even an organization dedicated to researching how retail signs and graphics affect your business. It's called the Sign Research Foundation, and here's what they have to say about signs and graphics for your retail space.
Who Are Your Customers?
The Sign Research Foundation says more than 85% of your customers are locals who live or work within five miles of your business. Your customers drive past your business daily and your signage reminds them you're there.
How Customers Find You
When researchers asked customers how they discovered a new business, 35% said they found a company while driving by. By comparison, 14% of new customers said they heard about a brand by word of mouth and 10% saw an advertisement. In other words, signs are three times more effective than word of mouth or advertising. That's a staggering difference.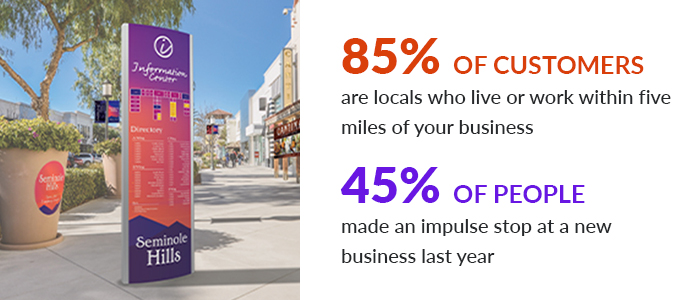 Impulse Visits
One survey showed that 45% of people made an impulse stop at a new business last year. Here are the details:
20% stop for a 400,000 square foot business

25% stop for 100,000 to 400,000 square foot business

35% stop for a business that's 100,000 square feet or less

40% stop for a convenience market

20% stop for a discount club/warehouse store

40% stop for a fast-food chain

15% stop for a sit-down restaurant

45% stop for a service station

20% stop for a supermarket
How Signs Compare to Newspaper and Television Ads
The Sign Research Foundation also researched the cost of signs compared to other forms of advertising. Here's what they discovered:
Billboard: A single on-site sign costs $.02 per one-thousand views.

Newspaper: A 300-line newspaper ad costs $2.81 per one-thousand views and only reaches 53% of the market.

TV: A single TV ad costs $9.82 per one-thousand views and only goes to 14% of the market.
That means one on-site sign is equal to 24 full-page newspaper ads each year. So, signs offer tremendous ROI on your marketing dollar.
Signs also increase your profitability. Installing a new sign like a vinyl banner or yard sign can grow your business by up to 16%.
Vehicle signs count as well. Suppose your company vehicle is wrapped with colorful graphics, your company name and your phone number. In that case, potential customers can see it anywhere.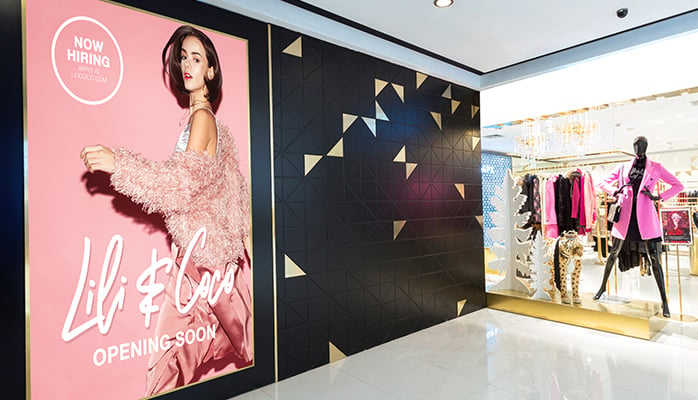 In a Nutshell
The statistics on how signs boost your brand are impossible to ignore. A custom sign and eye-catching graphics offer an enormous return on your investment. Signs differentiate your company from your competition and help you build a brand potential customers see as unique.
Also, business signs are vital to the community where your business resides. New residents move into your company's neighborhood each year, and your sign encourages them to stop by and check out your business.
Remember, it's crucial to have beautiful, exciting signage and graphics that stand out. If you'd like help with designing the signs and graphics for your brand, contact one of our custom signs and graphics gurus. Taylor is here to help you power your brand's potential.