According to Deloitte's 2023 CXO Sustainability Report, 73% of chief experience officers (CXOs) from the consumer industry have increased their investments in sustainability over the past year. More and more consumers are seeking out brands that emphasize sustainability and retailers have taken notice.
Deloitte's research team found that retail-industry CXOs are finding certain pathways to sustainability easier to implement than others. This blog will look at four metrics that stand out among retail CXOs' responses to the Deloitte study. We will then contrast those findings with three measures of consumer sentiment on the topic of sustainability.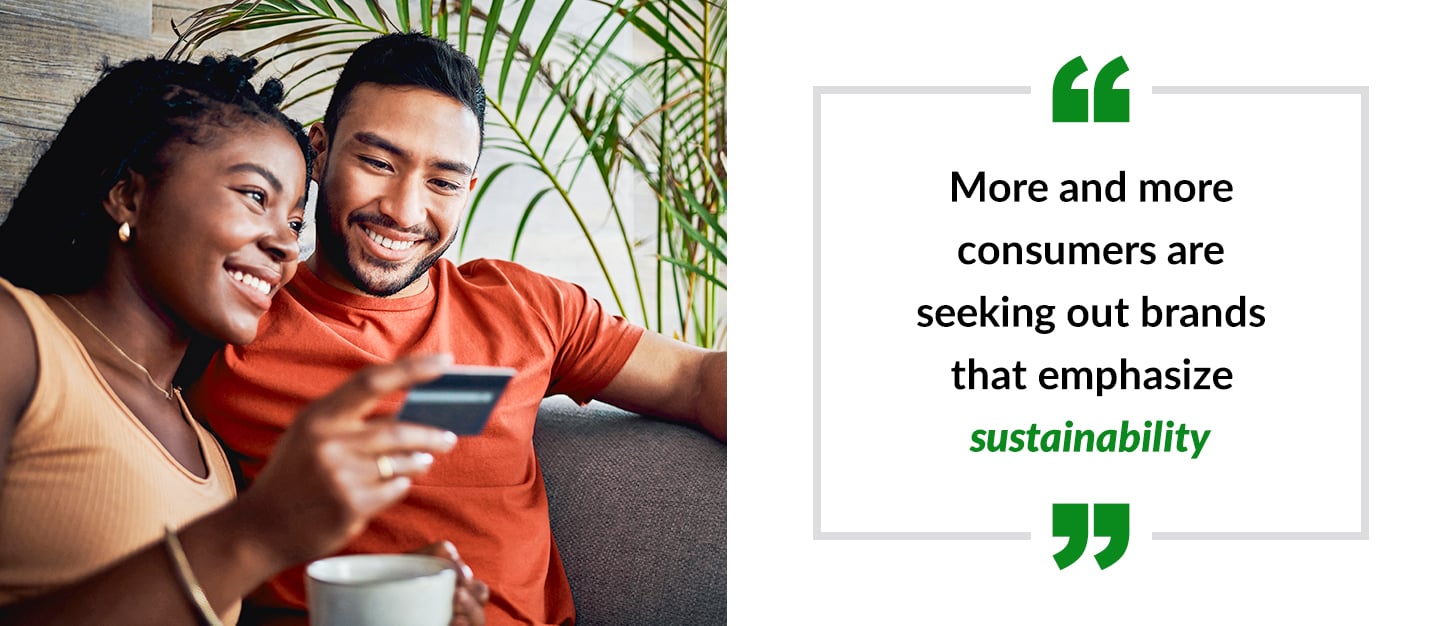 4 Measures of Sustainability in Retail
65% of retail companies are using more sustainable materials
Nearly two-thirds of retail CXOs surveyed say they are promoting sustainability through the materials they use to go to market. It is the #1 action being taken overall by retail CXOs and includes:
Recycled materials

Materials with lower carbon emissions

"Circular" products
53% are using climate-friendly technologies and equipment
Deloitte found that a majority of retailers are also mindful of the sustainability impacts of their technology and infrastructure. Just over half of retail CXOs say they are using energy-efficient or climate-friendly machinery, technologies and equipment to enhance sustainability.
48% are training employees on climate-change mitigation
The numbers slip a bit when it comes to employee training initiatives. Less than half of retail CXOs say their employees are being trained on climate change and the actions they can take to minimize the company's impact on the environment.
43% hold suppliers and business partners accountable
Likewise, a minority of retailers are holding key suppliers and business partners accountable for their role in achieving sustainability. Only 43% of retailers currently require suppliers and business partners to meet specific sustainability criteria.
3 Implications for Retailers
While these figures are promising, there remains room for growth. However – and perhaps even more importantly for CXOs – they also provide a roadmap for long-term market share growth in the retail sector.
Recent studies suggest that consumer preference for environmental responsibility offers retailers a powerful incentive to take a leadership role in adopting sustainable business practices:
These trends can be expected to continue. In much the same way, retail brands that lead the way in sustainability can expect to be rewarded through long-term sales growth.
Taylor: A Leader in Sustainable Retail Marketing Solutions
Taylor provides signs, graphics, displays and fixtures to many of the world's most prominent retail brands. In doing so, we embrace our responsibility to help retailers go to market in a more responsible, environmentally conscious way.
Preserving Earth x Taylor is our holistic view of sustainability. It directly addresses many of the survey findings in the Deloitte study noted above and includes the following:
When creating signage for our customers, we always design with sustainability in mind, specify the "greenest" materials possible and propose "next life" options up front.
Taylor is proud to offer Recrylic® – the world's only line of certified recycled acrylic – which helps to reduce carbon emissions by 90% across a wide range of fixtures, displays and signs. Recrylic costs the same as virgin acrylic and is easily recycled after use.
Taylor's rSERIES fabrics are made from recycled fibers and can be recycled when the messaging becomes outdated. They also cost the same as non-recycled silicone edge graphic (SEG) fabrics. Taylor is one of the first U.S. companies to embrace recycled fabrics as its standard offering for signs and graphics products.
We use Colateral campaign management software, which ensures that the exact size, style, version and quantity of materials needed is distributed to every store. The result is a dramatic reduction in the amount of in-store marketing waste.
Taylor's closed-loop recycling program for fabric and rigid graphics gives outdated marketing materials a second life as something else.