NORTH MANKATO, MINN. (June 13, 2023) – Taylor Healthcare announced it has reached an agreement with the U.S. Department of Veterans Affairs (VA) to add Mobile Signature Capture to the VA's iMedConsent™ installation. The VA uses Taylor Healthcare's proprietary iMedConsent solution for its surgical informed consent process in more than 140 medical facilities in all 50 states, Puerto Rico, Guam and the Philippines.
"Adding our Mobile Signature Capture technology to the VA's iMedConsent solution enhances the VA's telehealth strategy," says Scott Fleischman, vice president of federal programs for Taylor Healthcare. "VA patients will soon be able to sign surgical consent documents from anywhere using their own mobile devices. Allowing patients to review and sign consent forms while away from the VA facility is a huge win from a patient experience standpoint."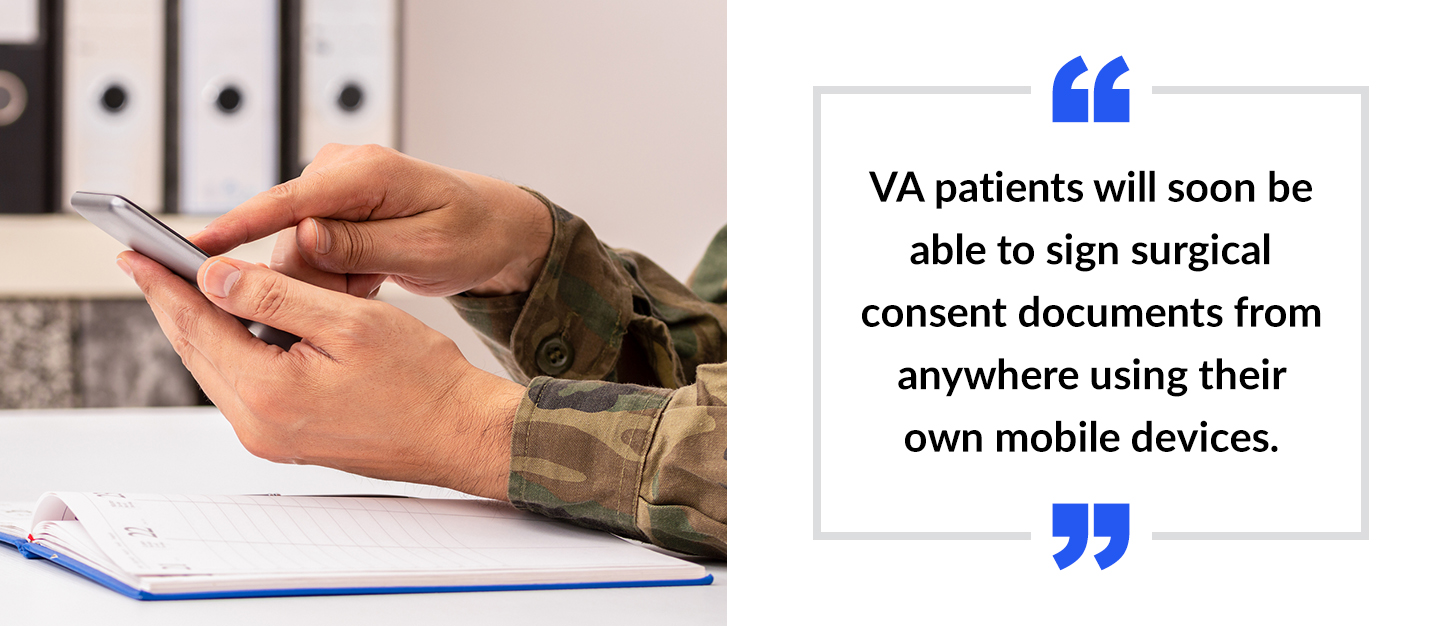 The Mobile Signature Capture implementation follows the successful 2022 migration of iMedConsent to the VA's secure enterprise cloud. This latest enhancement will streamline document management for the entire VA health system going forward. "The VA processes millions of confidential patient documents each year," notes Fleischman. "By providing consent forms and capturing signatures digitally, the VA is able to eliminate those paper documents and increase the efficiency of their new electronic health record."
iMedConsent is an informed consent documentation system that digitizes the process of obtaining patient consent prior to surgical procedures. Standardized consent forms describing more than 4,000 treatments in 37 clinical specialties are maintained in the iMedConsent solution's digital library. The procedures and accompanying education, anatomical images and pre and post-instructions help standardize the informed consent process.
VA physicians simply access the appropriate consent form in iMedConsent, which is reached from the VA's electronic health record (EHR). Physicians are able to customize the consent form as needed for each patient, use that document to describe the procedure to the patient, and obtain their consent. The patient signs the form electronically and the completed document is automatically stored in the VA's EHR.
The iMedConsent solution meets the VA's Section 508 requirements and is currently used by VA facilities worldwide, numerous Defense Health Agency facilities and dozens of private hospital systems.
About Taylor Healthcare
Taylor Healthcare provides innovative document automation and patient engagement solutions that standardize and enhance communications across the continuum of care. They improve patient care by enabling healthcare organizations to engage patients with the right information at the right time. To learn more, visit www.taylor.com/solutions/healthcare.