Since the dawn of digital marketing in the 1990s, people have been declaring that direct mail is dead as a key component of the marketing mix. Indeed, the volume of advertising direct mail has steadily declined over the years, from 82 billion pieces in 2009 to 76 billion in 2019. That figure plunged to 64 billion in 2020 as the nation reeled from COVID-19.

However, to borrow a phrase from Mark Twain, reports of direct mail's death have been greatly exaggerated. Media spending on direct mail is up roughly 5% in 2021 and 2022 is expected to be a particularly strong year for two reasons: demographics and remote workers.

Much like skinny jeans and tie-dye, marketing channels tend to cycle in and out of style according to the changing tastes of the audience. Case in point, direct mail. While only 55% of baby boomers have a positive impression of direct mail, 77% of millennials and Gen Z consumers like to receive direct mail. It seems that digital fatigue has led younger consumers to crave the tangible, tactile experience of handling a direct mail piece.

The other reason is pandemic-driven. It is estimated that 26% of Americans now work from home every day and that trend is likely to continue. More people working at home means more people attuned to the home mailbox, which translates to higher open rates and response rates. The more things change, the more they stay the same.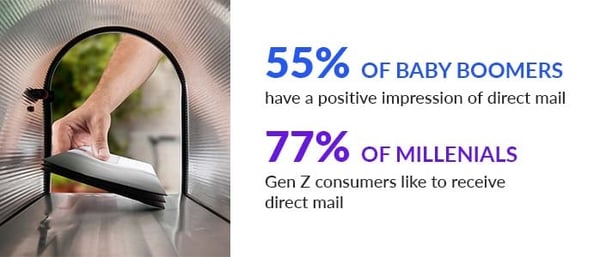 Direct Mail Trends for 2022
As you implement your marketing plan for 2022, be sure to include direct mail in the mix. Direct mail still allows you to do certain things that no other medium can replicate. However, the days of unimaginative bulk mailings are long gone. Pay attention to these three trends in particular to ensure that your direct marketing campaigns tap into all that direct mail has to offer in 2022:
Direct Mail Trend #1: Personalization
Consumers continue to be receptive to direct mail marketing provided it is personalized and relevant. Generic mailpieces with little or no personalization do not get the job done anymore. And by personalization, we are not referring to merely filling the recipient's first name in a salutation.

Personalization in 2022 refers to mailpieces that are composed and designed to speak to the needs, tastes and concerns of the recipient. For example:
Offers and messages that are unique to the individual consumer.
Images, colors and layouts that reflect the consumer's known interests.
Personalized landing pages (PURLs) that greet the consumer warmly and deepen the relationship.
Implementing direct mail personalization of this type requires two things: data analytics and digital printing technology. Demographic information, purchase history, tax records and other data sources can be used to develop messages that are more likely to elicit a positive response from a certain recipient. Digital printing technology – sometimes called variable data printing, or VDP – is then used to print a mailpiece that incorporates all of these elements in a way that communicates with the consumer as an individual, not just as another name on a distribution list.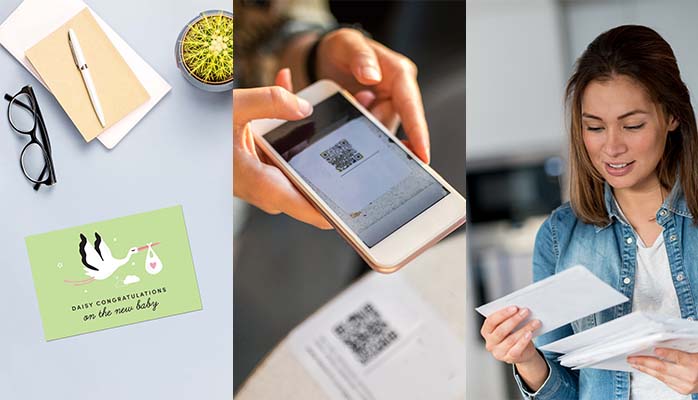 Direct Mail Trend #2: Interactivity
The USPS® recently announced their 2022 Promotions Calendar, which encourages marketers to utilize digital technologies that increase the effectiveness of a physical mailpiece. Discounted postal rates are offered to mailers who incorporate mobile-enabled features in their direct mail designs. Simply scan the mailpiece with a mobile phone or use a voice assistant to trigger an interactive, internet-driven experience that is impossible with an ordinary piece of mail.

The USPS is offering incentives for direct marketers to try all of the following in 2022:
Augmented reality (AR) functionality that allows the mailpiece recipient to see 3D digital images.
Voice commands that enable a voice assistant (e.g., Siri, Alexa, Cortana) to guide the recipient through an interactive experience.
Scannable features that trigger an interactive video experience.
Near-field communication (NFC) chips embedded in the mailpiece that share data with the recipient.
QR codes, barcodes, digital watermarks, voice assistant commands and image recognition features that prompt mobile shopping experiences.
Direct Mail Trend #3: Postcards
2022 is being called "the year of the postcard" by some in the industry, and with good reason. In August 2021, the USPS increased the maximum allowable size for a First-Class Mail® postcard to 6 x 9 inches. Direct marketers had long complained that the standard postcard size was too small to cut through the clutter in the mailbox or to incorporate the interactive features (see above) the USPS is trying to encourage.

The larger size addresses both limitations. Marketers now have more messaging "real estate" and creative flexibility in a cost-effective vehicle, complete with the First-Class Mail features of return to sender and address correction. Meanwhile, the postcard format itself sidesteps many of the raw material shortages that are vexing direct marketing firms during The Great Supply Chain Crisis.
Taylor: A Direct Mail Partner That Delivers High ROI
Taylor has decades of experience in designing, mailing and measuring direct marketing campaigns that build brands and deliver a high return on investment. We print and mail more than two billion mailpieces each year and maintain a Gold Level USPS rating to ensure our customers' mail is delivered in a timely fashion. We have an entire division dedicated to the production and management of sensitive, regulated communications such as statements and invoices. And, Taylor has the talent in house to provide comprehensive data analytics services ranging from data-driven creative strategies, custom scoring models, demographic and psychographic overlays, and more. Contact us to learn how Taylor is leading the way in direct mail in 2022.