Mark Twain once remarked that the reports of his death had been exaggerated. The direct mail industry finds itself in a similar position in 2023 as digital media advocates continue to predict the imminent demise of direct mail.
While USPS statistics indicate that overall mail volumes peaked in 2006, direct mail as a marketing channel is alive and well. In fact, 68% of marketers surveyed by Keypoint Intelligence expect spending on direct mail to increase over the next two years – and rightly so.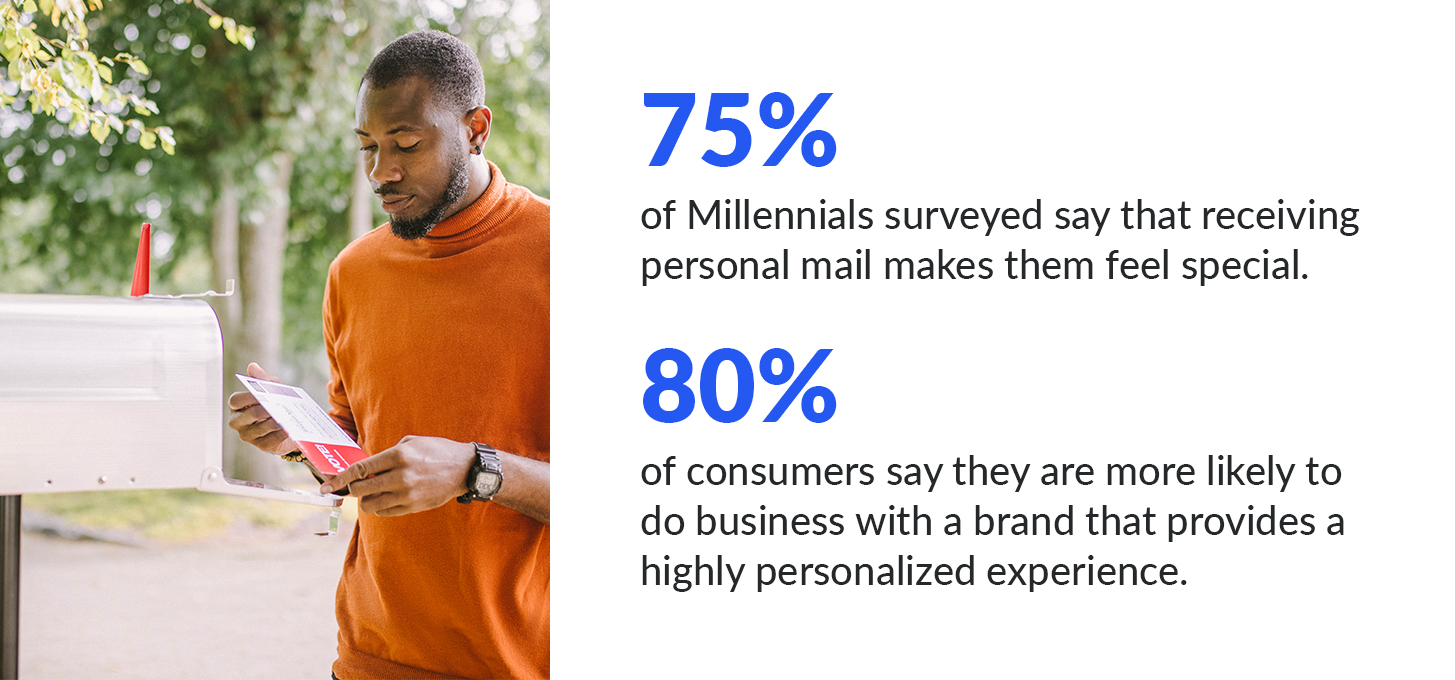 Clearly, direct mail will continue to be a major element of the marketing mix in 2023. However, it's no longer your Baby Boomer father's style of direct mail. The method of delivery may be the same but the strategy behind today's direct mail campaigns – and the calls-to-action they deliver – have been updated for the digital age. Here are four trends to watch for in 2023.
The Top 4 Trends in Direct Mail
1: Data Analytics Powered by AI
It's no secret that data analytics techniques now play a huge role in direct mail. Scoring models and segmentation strategies can help ensure that the right customers are targeted with the right messages at the right times, dramatically reducing waste and raising campaign ROI.
Personalization is another reason why data is so vital to direct mail. The more you know about your customer, the more personal your marketing message can be. Researchers find a clear link between personalization and marketing response rates in study after study. In fact, 80% of consumers say they are more likely to do business with a brand that provides a highly personalized experience.
Artificial intelligence, or AI, is making such hyper-personalization strategies possible. Machine learning techniques are enabling direct mail marketers to unlock hidden connections between datasets. Those hidden connections, in turn, hold the key to higher campaign ROIs.
2: Omnichannel Experiences
Direct mail is no longer a one-and-done marketing channel. More and more often, a direct mail campaign is a launching pad for a true omnichannel experience. For example:
Personalized URLs (PURLS) that open custom websites.

Augmented reality (AR) features that blur the line between tactile mail piece and digital environments.

QR codes that launch promotional videos; consumers are

85% more likely to buy a product

after watching a video about it.

Dedicated phone numbers for scheduling in-person meetings.
Don't forget, direct mail can occur on the back end of a contact as well. A hyper-personalized mail piece fast on the heels of a purchase or website visit can engage the customer on a deeper level than either contact on its own and is yet another omnichannel approach to consider.
3: USPS Emerging Technology Promotions
Our third direct mail trend is a reminder of the wide range of promotional opportunities that are once again available through the USPS – many of them extensions of the omnichannel experiences noted above.
The Emerging and Advanced Technology Promotion overview for 2023 is now available. It describes a number of ways to obtain a postal discount while creating an engaging mail experience.
3% discounts for:
Enhanced augmented reality to show real-world objects using 3D digital images

Basic voice integration with a voice assistant using simple voice commands to guide exploration

Mobile shopping triggers such as QR codes, digital watermarks and image recognition
4% discounts for:
Advanced integrations with a voice assistant

Video-in-print technology that creates a mailable, interactive video experience

Near-field communication (NFC) chips embedded in a mail piece

Mixed reality experiences blending physical and virtual spaces

Virtual reality experiences that occur in an artificial world
4: Sustainable Mailpiece Design
Consumers in all categories are steadily becoming more environmentally conscious. This interest in sustainability is now carrying over into mailpiece design. Brands can demonstrate that they are marketing responsibly by paying closer attention to the methods used in creating the mailpiece itself. For example:
Making an effort to use recycled paper for the mailpiece.

Using paper produced with pulp sourced from responsibly managed, FSC®-certified forests.

Using thinner, lighter paper to minimize the sheer volume of raw materials consumed.

Utilizing environmentally friendly printing methods.

Designing the mailpiece with easy recycling in mind.
Taylor: Direct Mail Programs
Taylor is one of the largest direct mail providers in the nation, mailing more than two billion pieces each year. Everything from comprehensive data analytics and segmentation strategies to postal optimization, kitting and fulfillment services is available through a single partner. Contact a Taylor representative to learn more about our direct mail capabilities.