Healthcare information is readily available for patients and family members alike. Indeed, more than 93% of adults are online and the internet is the number one resource they rely on for information about physicians and hospitals. Given the complexities of data privacy regulations and the fierce competition for patients driven by endless corporate mergers, healthcare marketing is hard and getting harder by the day. However, here are some dos and don'ts to remember that could make your job as a marketer considerably easier.
Become an authority
Patients and potential patients are bombarded with healthcare information at every turn. Have a headache or runny nose? Chances are your patients will turn to Google before contacting you. Even if they aren't actively looking, digital targeting serves ups healthcare information in the form of ads that may attract their attention. In today's competitive market, it's vital that patients look to you as an authoritative source of information. Trouble is, having an up-to-date website is no longer sufficient. You must also strive to maintain an active social media presence and incorporate SEO best practices so your material rises to the top on search engines – before your competition has an opportunity to catch the patient's eye.
Learn from other industries
We've all heard the term "consumerization" in relation to healthcare. Consumers notice what's happening in retail, entertainment, hospitality and elsewhere and this inevitably heightens the expectations they have for their healthcare experiences as well. Healthcare marketers should continuously watch other industries and seek to identify technologies and innovations that could improve the healthcare experience. Then, either broach the topic with senior leadership or figure out a way to adopt the change for the organization yourself. Patients will thank you.
Adopt a mobile-first mindset
If your healthcare organization isn't embracing mobile, it's time to start. According to the Pew Research Center, more than 97% of Americans now own cell phones and 85% of them are smartphones. What does that mean for healthcare? Patients want to be able to access providers without making a call. They expect to be able to fill prescriptions and make appointments online. And, they want to be able to communicate securely with their providers from anywhere.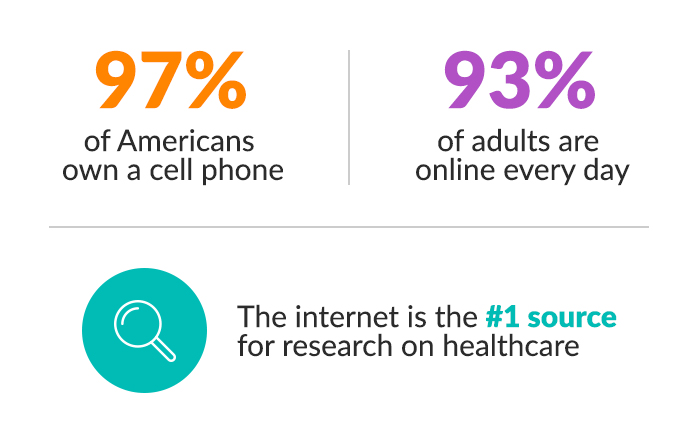 Know your target audience
Digital technology is a fantastic way to reach people but it's also important to consider how technologically savvy your patients or prospective patients really are. Just because they have a smartphone doesn't necessarily mean they will know how to use it for advanced modes of communication. Don't abandon "low tech" tactics that have worked in the past. If you have good results from reaching your patients via direct mail, keep doing it. Instead, consider adding other touchpoints to make it a true multi-channel experience.
Make sure there's a seat at the table for marketing
Believe it or not, there are still some organizations that don't consider marketing to be an essential part of the healthcare leadership structure. This is obviously a perilous situation. Without the ability to attract potential patients and top talent, the organization will flounder. Remember, the strength of your brand in the marketplace is directly related to the value leadership places on building the brand.
Use the best tools available
Good healthcare marketing requires mastering many moving pieces – complexity, regulations, patient data privacy, and multiple channels. Without a plan, marketing inefficiency can grow into a big problem. Check out our healthcare marketing toolkit to see how the best healthcare marketers get things done.