Coffee is a competitive market these days and leveling up your game in the industry puts you up against some big players who have deep brand loyalty. So how can your brand stand out in crowded markets?
Erin Newkirk, Chief Brand and Marketing Officer at Caribou, talks about brand marketing strategies that start with a deep understanding, and solution, to a human need. And most importantly, leaning on the authenticity consumers crave today.
Join us as Glenn and Erin discuss:
Values-first branding initiative

How to ensure your marketing team is using the right MarTech stack

Looking ahead to 2023
Values-first branding initiative
100% clean label beverages, 100% rainforest alliance, certified cage free egg, and so much more — it's not difficult to see that Caribou cares about the value they offer their consumers. But where did this emphasis come from?
Starting as far back as their founding in 1992, brand authenticity has always been central — creating day-making experiences that spark chain reactions of good. For Erin, that authenticity was one of the original reasons she joined the company.
But what about authenticity drives sales for a company?
Strategies for continued growth
It's no secret that the past few years through the pandemic have been a challenge for companies. But be warned: It's time to change your perspective about what normal means.
"We've met our new normal," Erin explains. "And every brand that isn't authentically digging in to find the win-win-win for their stakeholders, vendors and partners, and consumers is going to be really challenged."
Erin credits Caribou's continued success to how they've approached authenticity through their team, the guest, and quality — in that order. And while brands can overwhelm themselves with new technologies, the simple solution of prioritizing those touchpoints and the overall quality of a product or service is a strategy that every company can mirror.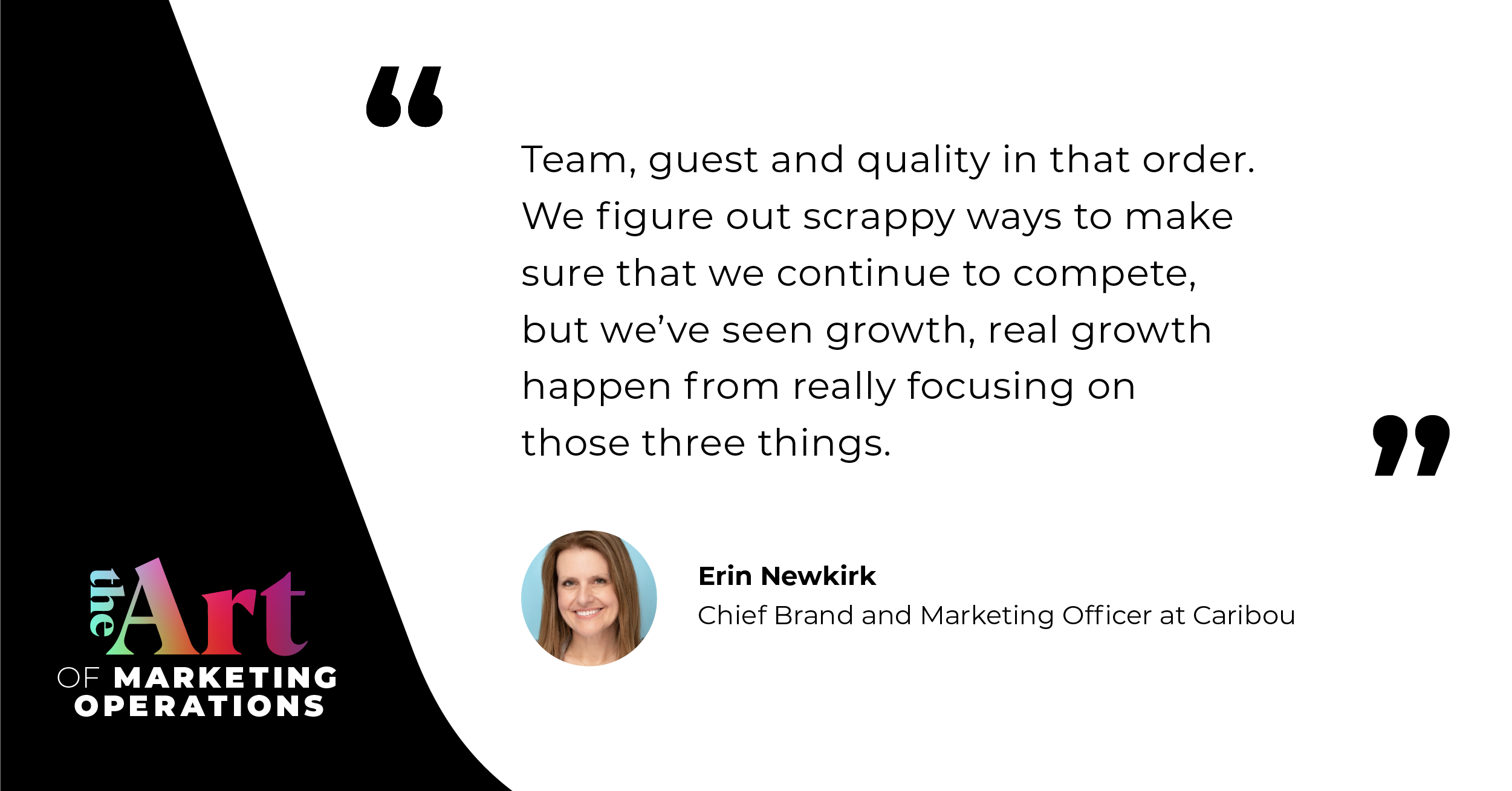 How to ensure your marketing team is using the right MarTech stack
Having a strategy in place is important, but if your marketing team isn't set up for success, the actual strategy deployment may pale in comparison. Erin identifies areas a brand should focus on to ensure that excellence:
Who's at the table?
The stakeholders: Shareholders, leadership, team, and partners.
Who is being served: Customers and consumers.
Their demographics: Where are they spending the majority of their time? Which websites are visited most often? How do you grab their attention?
By identifying everyone sitting at the table, you're getting a full picture of the problem you need to solve for and how to best solve it. A solution for one group may look completely different for another. Don't assume it'll be the same for everyone.
Optimizing the process
Now that you know everyone involved, you need to make sure your process is flawless, both internally and at the point where that process meets the customer. And while measuring is an important step, it's not the only step.
Specifically considering marketing, the next level up involves asking: What differentiates the work you're doing? To find this out, you have to look at micro trends, your purpose, and key brand benefits.
"When you think about what really differentiates us from all of our competition: It's about how we create that true connection — how do we co-create and how do we sustain that?" — Erin Newkirk
A big way that Erin and Caribou have differentiated themselves is through their co-creation of brand with their customers. Rather than let the brand story be all about the company, they let the customers get involved with the journey through opportunities like customizing their drink order with the Caribou mobile app.
Think of the Apple iPhone: It provides all the technology a person would need to get started, but lets the customer take it from there with different customizations.
Looking ahead to 2023
For Erin, the biggest change she sees on the horizon will be about the growing curiosity and transparency around how companies are doing business. While many are worried about this potential change, Erin is ready for it:
"Today's consumers, especially Gen-Z, are an amazing group of humans who are, thankfully, very relevant to our business," she explains. "I am endlessly excited about the reset that they are demanding in this world."
In combination with this perspective shift are the newest platforms coming to market, poised to make it easier to translate great intent and integrity into strong capabilities and results.
What to learn more about how to differentiate your brand with a values-first approach? Listen on Spotify, Apple Music or wherever you find your podcasts.