A guest sits down at a new restaurant in town, and they're excited—they saw an ad saying this establishment offered fresh seafood on weekends, and they waited until then to get a table. They were looking forward to it all week. The dining area is moderately busy, with waitstaff bustling past with trays of delicious-looking meals. There is low, intimate lighting and a well-crafted ambiance.
After long minutes of watching other tables receive their orders, a waitstaff member finally stops by. They give their order, only to be told they're out of fresh seafood because the ad was only for opening week. The guest is disappointed, but they order something else and move on, determined to have a good evening. Every promo they saw for the restaurant had boasted about their fine desserts, too, so they held out hope.
The guest waits for another hour to receive their meal. The waitstaff does not stop at the table within that time, and their water glass is empty.
Their meal finally arrives, and it's mouth-wateringly good. Everything is perfectly prepared. The guest asks the waitstaff about the desserts, only to learn they stop selling them twenty minutes before closing, and the window has passed. The guest pays the bill, dissatisfied and feeling unvalued. Even though the meal was one of the best they'd had in a long time, they will not return to the restaurant.
This scenario is probably familiar to many, and we can all guess why this patron would not be back at that location. A brand can pour countless resources into building the best product, business, and marketing plan. But if a customer does not feel valued and seen, and promises are not followed through, all of that investment goes down the drain.
In other words, if you have a great product, but your customer's glass is empty, and you cancel dessert, they won't be back.
Ted Rogers, Chief Marketing Officer at Digital River, is a prime-time saver of company dollars, and he does it by reminding them of one crucial component: Buyer Experience. Ted is not your typical CMO—he's run fraud teams and credit teams, had a hand in logistics and operations, and was once a programmer. His unique background aids him in providing well-rounded advice based on concrete experiences.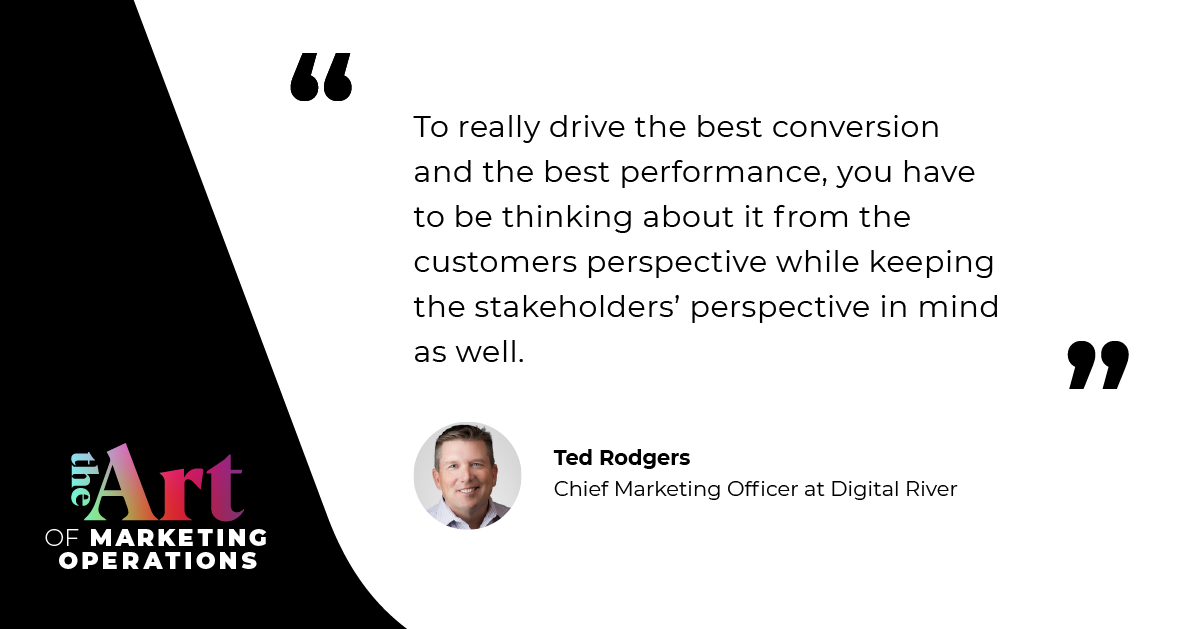 How Customer-Centricity Drives Conversion
You never get a second chance to make a first impression. Having a firm grasp on what customers feel and how they respond upon first interacting with your brand online or in person can spell the difference between a retainer and a one-time visitor.
With the copious amounts of data and info pulled in from any number of Martech dashboards on a daily basis, it's easy for marketing teams to get distracted. What does it take to stay focused on buyer experience, and how do those metrics remain at the forefront?
One picture to keep in mind is the coin flip. Heads equals $1, tails equals $2. The stakes lie in how you bet.
You could bet 50/50 and hedge or only bet on tails to maximize wins. You may not be able to control the outcome, but you can ensure you're placing your bets in the right place, the spot that gains you the higher reward.
The same is true for customer responses — you can't control how a customer or brand will respond, but you can control where you place your bets.
"Those bets could be based on hardcore data in a spreadsheet, anecdotal data based upon what we see our competitors doing, etc. We try to use that [the coin flip] as a point of inspiration or clarity for the team," Ted says.
The Power of Direct-to-Consumer Relationships
In the vein of placing the right bets — getting a brand's online experience spot-on is paramount for success in today's markets. A poor online experience can have a significant impact on reputation.
Brands risk losing control of their image and data points when selling through a digital marketplace. And with that, they lose sight of customer experience. Fraudulent sellers are also prevalent across digital marketplaces, such as Amazon, which could create false narratives around product quality.
"If you're not addressing the cultural nuance of the consumer, there's a significantly higher likelihood of abandonment," Ted continues. "When I say cultural nuances, I'm not just talking about the shopping experience — what imagery, what words, what language, all of those are certainly important — but I mean all the way to the end of the checkout process."
That means tracking payment methods and currency types, proper tax and duty collections for cross-border orders, and ensuring there will be no surprise fees for the customer when they receive their item. Fostering direct-to-consumer relationships supports positive brand associations and consistent customer experiences.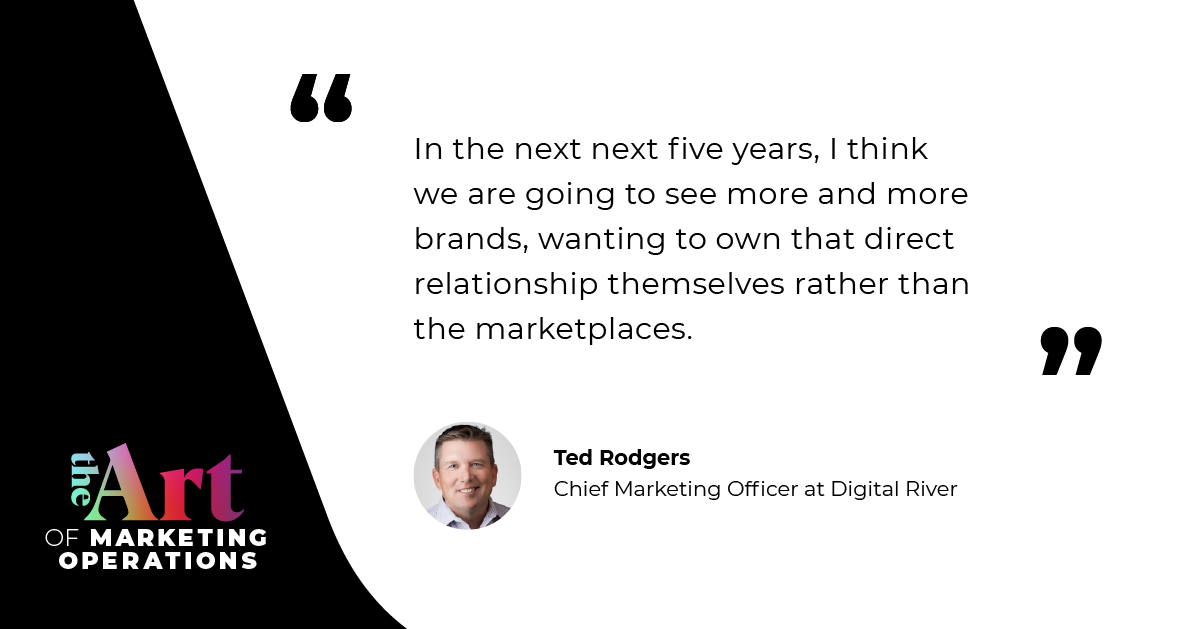 Data-Driven Insights: Customer Shopping Habits
Even as e-commerce surges into the forefront of customer habits, in-store shopping is already making a comeback. Why is that the case when the ease of online shopping far outweighs the process of getting dressed, driving to a store, and physically browsing through a — compared to online — limited stock?
There is a simple explanation: People love the entertainment of shopping in-store, the fun factor. E-commerce typically lacks the same amount of engagement and fulfillment. The data doesn't lie.
"That's what brands have to figure out to continue to see the ongoing growth in e-commerce," Ted says. "How do you bring that fun factor into it? How do you bring the joy that people get from touching, feeling, and experiencing shopping? It's just not the same online. We're going to see evolution that supports that."
Even now, brands are incorporating more interactivity into the e-commerce experience with virtual try-on capabilities, furniture viewing through phone cameras to see what an item would look like in a room, and more. Leaning into interactivity puts customers at the center of the process and helps them maintain a connection to the brands they interact with. Balancing digital and physical marketing efforts is a critical component for success in today's evolving landscape.
Where do you gain the insights needed to succeed with e-commerce while keeping customers at the center? There are a few main paths to explore:
Competitor shopping (What type of experience are they providing?)

Agencies (Useful for comprehensive rundowns)

Data-tracking tools (Such as

SimilarWeb

)
Tracking web traffic can shine a light on untapped marketing opportunities, specifically if a brand focuses solely on the U.S. market. By checking traffic, you may discover leads outside the United States, opening the door for new strategies geared towards their region in their language.
Hungry for more on this topic? You can gain further insight into maximizing marketing impact from our conversation with Alissa Nixon.
The Best Way to Expand E-commerce Reach (Safely)
Every step of a buyer's journey matters, whether it's online or in-person. When a brand has the bandwidth to focus on fundamental deliverables, performance climbs and stress declines. That's what Digital River and similar entities provide — relief from handling the complexities of global back offices and requirements so they can focus on packaging and presentation.
How many of us keep the box from our Apple products? That level of detail is only achievable by a buyer-experience-focused team unhindered by any regional red tape.
"Brands can worry about what they do best — building and marketing their products — and not have to worry about how to collect tax in Turkey and if that is a competitive advantage. It's probably not," Ted says. "They can worry about the things that matter the most, and we can help them with the rest of their wares."
Delegating backend workloads to determine market opportunities and seller requirements is a good bet because it allows for more focus on customer experience and creates harmony across diverse storefronts. After all, collaboration is the true backbone of driving results in-person and online while breaking through noisy markets.
Interested in learning more about building internal coalitions, sharing goals across entire organizations and more? Listen on Apple Podcasts, Spotify, or wherever you find your podcasts.