Becker's Hospital Review recently explored the mission statements of the nation's leading hospitals. As noted by Becker's, mission statements are foundational to the vision, identity and strategy of the organization. Here are a few examples:
"To deliver leading-edge patient care, research, and education."
"To deliver excellence in patient care and advance that care through innovative research and education."
Massachusetts General Hospital
"Caring for life, researching for health, educating those who serve."
While they phrase their missions differently, all three institutions focus on patient care, education and research. Indeed, these same three concepts can be found in nearly every healthcare organization's mission statement. However, it's also interesting to note what is not there.
You will never see a hospital system mention vertical integration in a mission statement.
Why, then, do so many hospital systems continue to maintain in-house print centers? Do internal print management strategies advance the mission? Or, are in-house operations at risk of becoming a distraction? It's a topic that begs further exploration.
Does printing support the mission?
Taylor Healthcare commissioned an independent research firm to survey a sample of 152 healthcare procurement, financial and operations leaders to better understand how print center outsourcing factors into their 2023 plans. Three findings stood out in our analysis.
1: Leaders are unclear of the purpose
Key takeaway: If a senior leader doesn't know why the organization is managing an internal print operation, it's unlikely that an in-depth cost/benefit analysis has been conducted anytime recently. Most often, a classic "that's the way we've always done it" scenario is behind the decision.
2: Print centers are out of sync with investments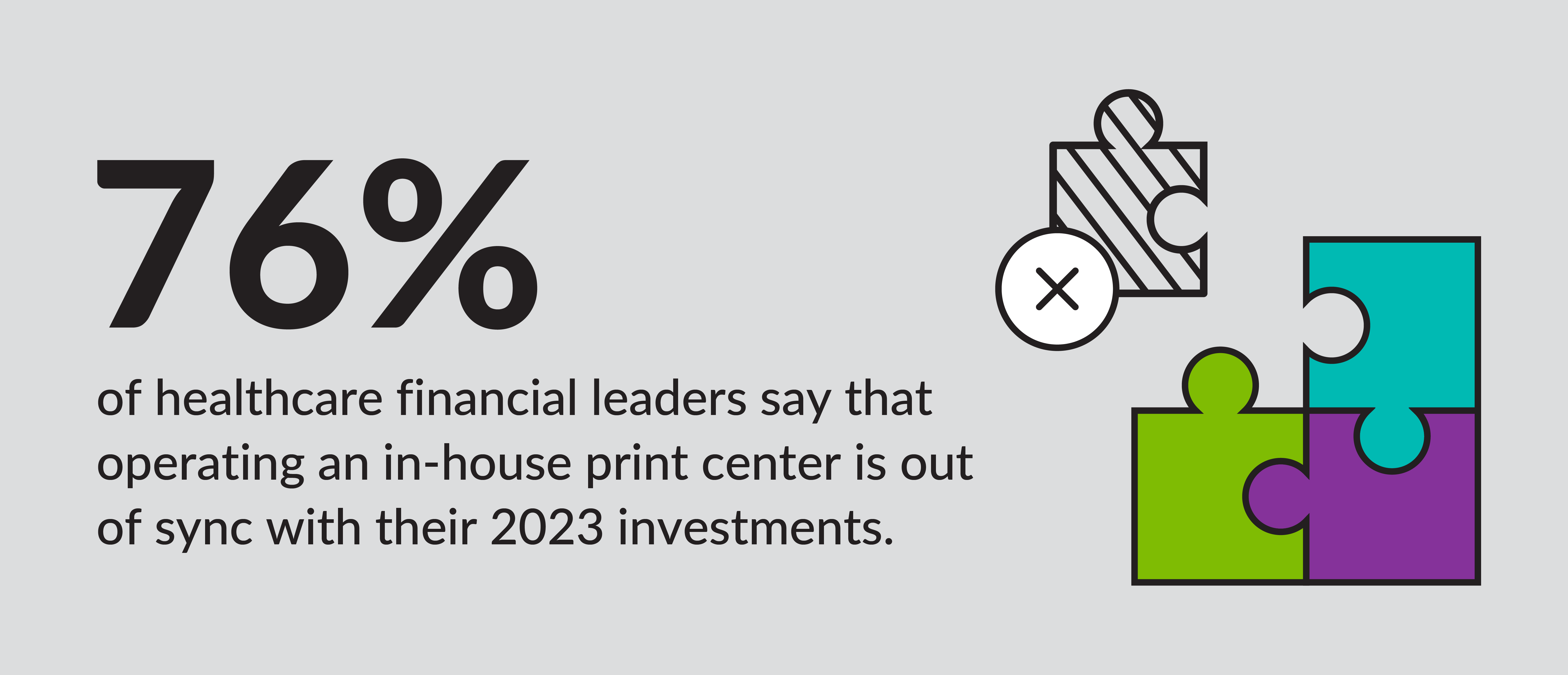 Key takeaway: Operating margins in the healthcare industry are under extreme pressure and capital investment decisions face added scrutiny. These realities have a large majority of hospital CFOs questioning the strategy behind internal print shops in 2023.
3: Top priorities lie elsewhere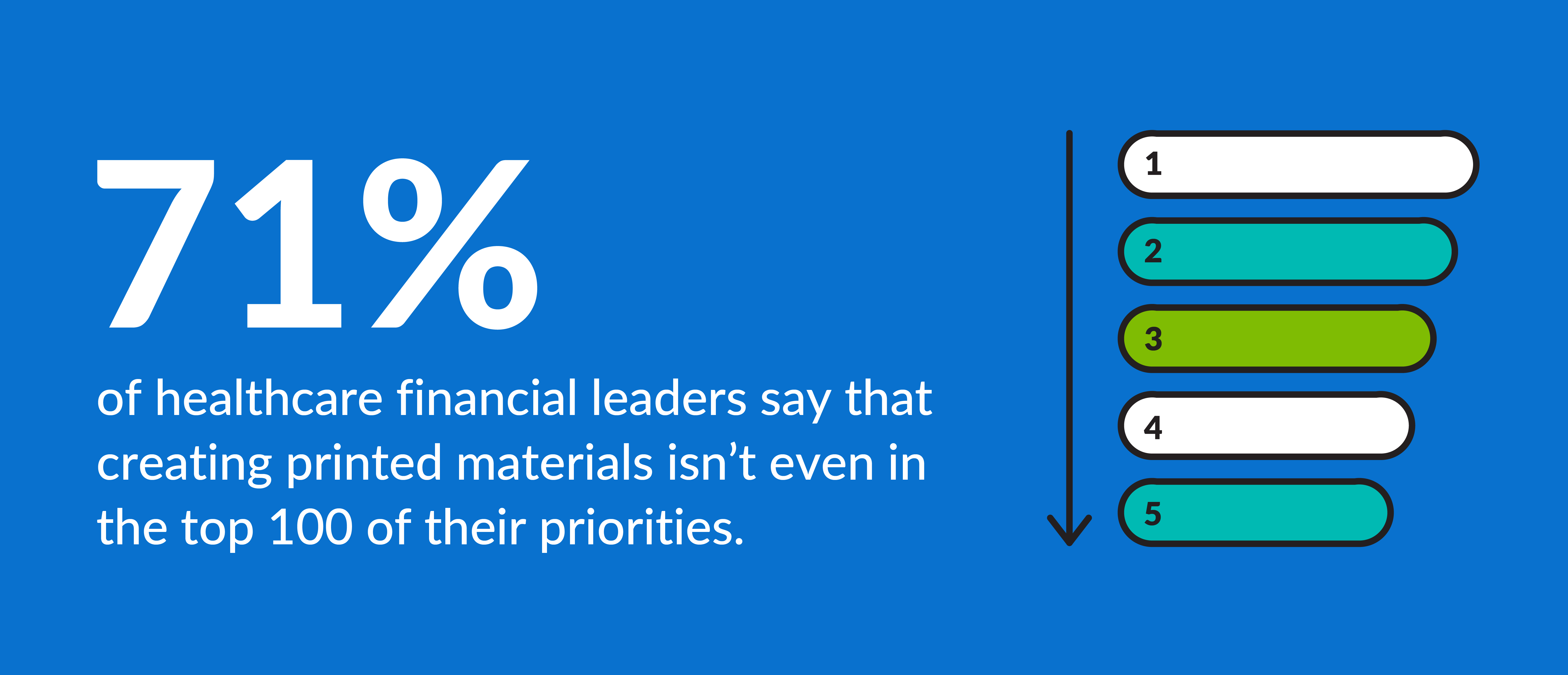 Key takeaway: A majority of hospital CFOs admit that printing is not a priority for the organization. However, internal print shops are common in healthcare. To ensure sustained long-term success, these organizations should revisit the alignment between their operational priorities and capital spending.
These are just a few of the findings captured by this Taylor Healthcare survey.
Click here to download an infographic summarizing the entire study.
The margin of error was +/- 6% at the 95% confidence level.
Print Center Outsourcing Models for Hospitals
Taylor Healthcare has provided communications solutions to the industry for nearly a century. Print center outsourcing is among our areas of specialty. In fact, several of the most recognized hospital systems in the nation rely on Taylor Healthcare for support.
Of course, no two hospitals are exactly alike. There are a variety of business process outsourcing models that you could consider for your organization.
Dedicated On-Site Support
An outside partner can assume control of your hospital's on-site print shop. In this model, your outsourcing partner takes on management responsibility for space, people, equipment, process and inventory.
Copy Center Hybrid
This model is a mix of outsourced and in-house capabilities. For example, an on-site concierge provided by your outsourced partner can assist hospital customers with small, fast-turn projects. Meanwhile, more complex print jobs are routed to your outsourced partner's production network, typically via an online print management portal.
Outsource with Local Partner Support
In this scenario, your hospital's in-house print shop is shut down completely. Small, same-day projects are handled by a local provider. Meanwhile, all other jobs are ordered through your outsourced partner's online print management portal.
Total Outsource
In a total outsourcing model, your hospital's in-house operation is shut down and no local support partner is engaged. All requests, large and small, are submitted to your outsourced partner via online portal.
To learn more about print center outsourcing models, contact a Taylor Healthcare representative.