A simple scan of your favorite news feed will quickly confirm the following: The global economy is struggling with a supply chain management crisis of historic proportions. Consumer goods of nearly every type are in short supply for a cascading litany of reasons. AARP magazine noted several products that continue to be in short supply in 2022:
Automobiles are severely backordered because of the ongoing shortage of semiconductor chips.

Clothing racks are empty because of factory closures in Asia due to "zero COVID" policies.

Pet food is hard to find because of the national shortage of truck drivers.

Chicken, of all things, has become scarce through a combination of severe winter weather, meat packing plants idled due to COVID-19, and fast-food restaurants selling more chicken sandwiches and wings.
Unfortunately, healthcare organizations are not immune to this ongoing challenge. Supply chain management issues have had far-reaching effects on healthcare organizations nationwide and there is no end in sight as of now. While the supply of PPE items has bounced back from the dark days of mid-2020, other items vital to the delivery of healthcare services – such as labels, wristbands and clinical documents – have been deeply affected.
Before exploring what you can do to reduce supply chain management risk in your healthcare organization, it may be helpful to understand the forces currently at work. Three issues, in particular, are dogging the healthcare industry in 2022.
Key Factors Affecting Healthcare Organizations
Raw materials are costly and scarce
For those items now in short supply, the issue can often be traced back to the raw materials from which they are made. All of the key indicators are pointed in the wrong direction:
Raw materials prices are up

Supplies are down

Lead times are longer
For healthcare organizations, this translates to cost increases and demand imbalances for things like the liners, films and adhesives used to create labeling products. Those higher costs, tighter supplies and slower delivery times, in turn, eventually impact the procurement and risk management professionals tasked with keeping the care delivery system running smoothly.
Transportation logistics are constrained
Much like the cliché of two ships passing in the night, the entire global transportation network is out of sync:
Shipping containers are piling up in all the wrong ports around the world.
Massive shortages of truck drivers and dock workers has slowed the movement of those precious containers.
High fuel costs – and record-high truck driver wages – has further added to the cost of moving healthcare products from point A to point B.
Long story short, overseas transportation of a 40 ft. shipping container that used to cost an average of $3,200 is now averaging $9,100. The news isn't any better once on dry land. The current van truckload spot rate is running at approximately $3.29 per mile compared to $2.10 per mile in 2019.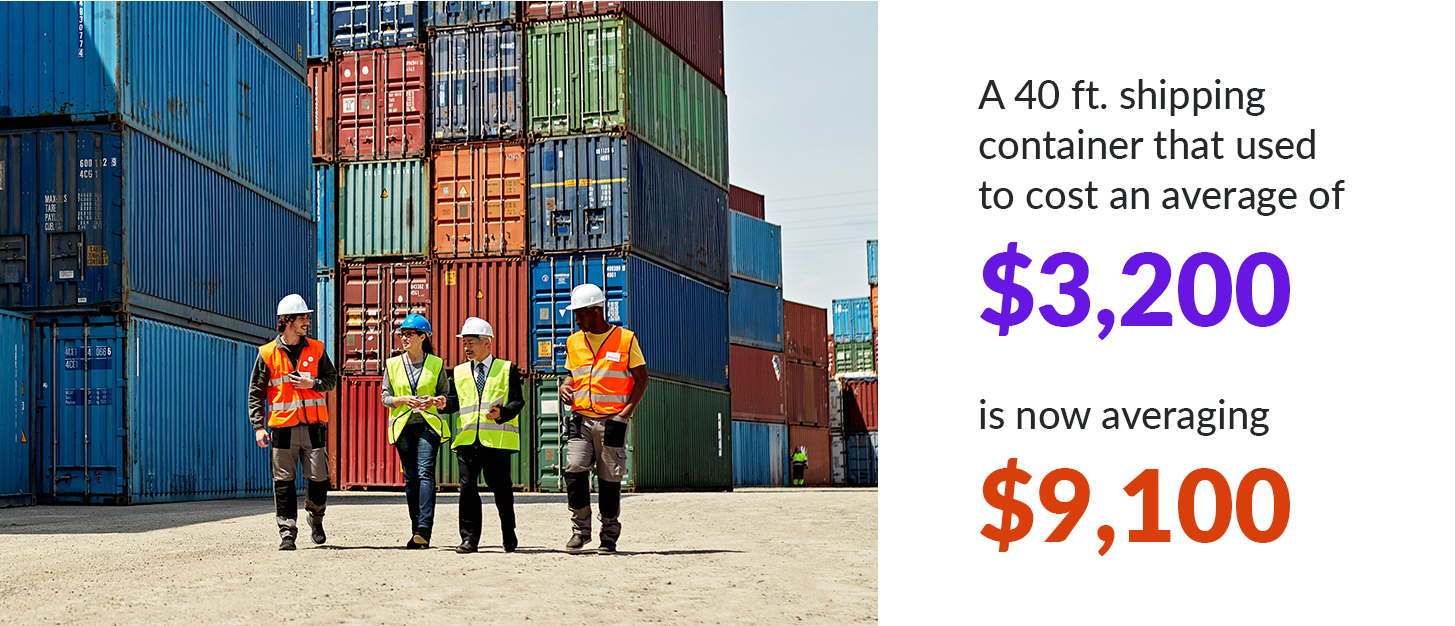 Demand is at historic high levels
The pandemic also changed the nature of demand for consumer products – which has spilled over to other industries like healthcare. Going back to the example of labels, the healthcare industry has found itself in direct competition with the entire food and beverage industry. Explosive growth in demand for packaged food and beverages has made those same raw materials hard to come by for laboratory labels, patient wristbands, clinical documents, signage and more.
Supply Chain Management Strategies In Action
Becker's Hospital Review recently asked executives and supply chain leaders in various healthcare organizations for their insights on the supply chain management issues they now face. Certain themes and mitigation strategies rose to the top and align with those that Taylor Healthcare is pursuing itself.
#1: Emphasize demand planning and forecasting
Danielle DiBari of NYC Health + Hospitals noted that her organization has largely been able to get ahead of these supply chain management issues through thoughtful demand planning and forecasting.
"We've engineered ways to get around such challenges — for the most part. Those strategies include forecasting products and materials and adjusting timelines on our end for delayed shipping, diversifying our suppliers and building relationships with these suppliers. By planning far enough in the future and addressing anticipated issues early, a health system can get ahead of a challenge and pivot so its patients and overall communities do not experience any disruption in care."
Taylor's own supply chain analysts do likewise, combining customer-provided demand forecasts with historical demand figures and the latest supply chain management intelligence to create highly detailed ordering and production schedules. This has enabled us to empower our customers to maintain proper inventory levels and reduce the risk of stockouts.
#2: Explore material-specific supply constraints
Michael McCullough of Wellstar Health System described how studying the supply chain on a more strategic level can help a healthcare organization to stay ahead of the crisis.
"We continue to talk about a lot of looking deeper into the supply chain. For example, the current aluminum shortage is not a shortage of aluminum but the magnesium that is used as a hardener in the production of aluminum. That's an example of looking deeper and deeper down into the supply chain to try and anticipate what's going to come next."
Taylor's strategic sourcing team does this as well, working closely with raw material suppliers to spot supply chain constraints before they become critical. This allows us to identify at-risk products at the SKU level and to advise our customers with precision. In doing so, we are able to update their inventory management plans and prevent stockouts before they occur.
#3: Be open to substitutions
Christopher O'Connor of Yale New Haven Health explained that a willingness to make substitutions is necessary in the current environment, even if it means making changes to the delivery of care.
"The supply chain continues to experience an excessive amount of line items every day that are out of stock and many substitutions for critical need items, some of which require a change in clinical practice. These items range from commodities to medical supplies. Oddly, the most stable items today are PPE."
One way Taylor's technical consultants plan for substitutions is to develop detailed materials decision trees by specification group. Each specification group has pre-determined alternate "drop-in" materials that can be sourced from multiple suppliers if need be. So, for example, if a certain substrate or adhesive needed for a hospital wristband is no longer available, we are able to source a suitable alternative material and reduce the supply chain management risk for our customers.
A Team Approach to Supply Chain Management
Ships sitting at anchor. Shipping containers piled high. Trucks parked without drivers. Multiple industries competing with healthcare organizations for the same raw materials. There are many reasons for healthcare risk management professionals to be concerned about ongoing supply chain management issues. However, when vendors and customers work together and partner on the three strategies noted above, that supply chain risk can be effectively managed.
As a trusted supplier partner to the healthcare industry for more than 100 years, Taylor Healthcare has managed through supply chain management crises before – and will undoubtedly encounter more in the next 100 years. Whatever the challenge may be, we are able to use our size, sourcing savvy, logistics excellence and strong vendor relationships around the world to mitigate risk and help our healthcare customers deliver quality care without interruption. Contact Taylor Healthcare to learn more about our comprehensive approach to supply chain management.