Consumers come into contact with dozens of durable industrial labels each day and rarely give them a second thought. The lawnmower in the yard, the car in the garage, the microwave in the kitchen, the HVAC unit cooling your home – all use durable labels of some sort. The fact that labels are so common makes them easy to take for granted.
However, if you're the manufacturer of any consumer durable goods, you appreciate just how significant labels really are. You also know that production efficiency holds the key to your long-term success. Anything you can do to reduce the cost of a component part – right down to the smallest label – will show up later on your bottom line. Here, then, are five practical strategies for reducing the cost of your durable labels.
Reduce Your Durable Industrial Label Costs 5 Ways
1 - Focus on the label design process
The first step in creating a durable industrial label is to design it to the required fit, form and function. This is often an underappreciated step in the process. In the end, greater than 70% of the total cost of a durable label is "locked in" during the design phase.
As shown in this cost breakdown diagram, materials commonly account for 73% of the total cost of the finished printed part. More than anything else, the materials that go into your label will dictate the per-unit cost of the finished part. For maximum cost efficiency, then, it's critical that you don't over-engineer or under-engineer the label design:
Are the label size, adhesive and face stock specifications appropriate for your application?
Will a protective coating be needed for maximize performance – or could you do without?
Make smart decisions during the label design phase and you can dramatically lower the cost and enhance the performance of your labels. Gloss over those details and you'll end up paying too much for your labels and possibly invite costly performance issues later on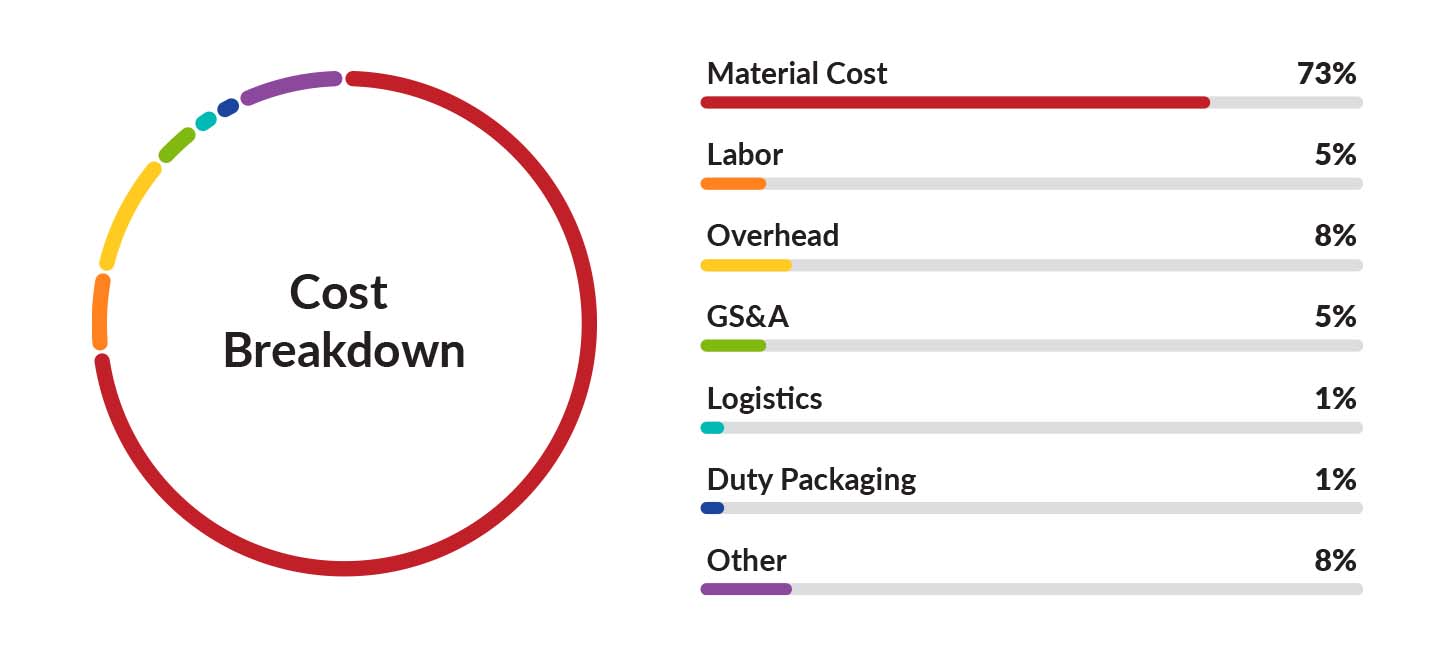 2 - Be open to alternative labeling technologies
Manufacturers are often hesitant to consider new ideas because of the risk it could pose to product performance or manufacturing efficiency. There is a lot of wisdom in this thought process. As the saying goes: if it ain't broke, don't fix it.
However, all industry best practices and tried-and-true technologies of today were "new" at one point in time. Innovations are constantly occurring that could significantly improve your manufacturing processes. In the realm of printed production parts, linerless labels are one of those ideas whose time has come.
Unlike ordinary pressure sensitive labels, linerless labels have a silicone coating on the face stock that is specifically engineered to prevent the labels from sticking to the rest of the roll. Liner waste no longer piles up on the shop floor, bringing a variety of benefits to your manufacturing operation:
Eliminate the 50% of the end product that is ordinarily thrown away.
Reduce roll change labor costs thanks to rolls that are 75% longer.
Slash your disposal costs while eliminating workplace hazards.
Here again, smart design decisions have the potential to unlock tremendous process improvements. Being open to new ways of thinking about the design and use of your labels can give you a competitive edge in the marketplace.
3 - Migrate to digital print-on-demand
Once upon a time, the cost per piece on printed production parts was best kept low by printing less often and in massive quantities. Order all the labels you need for months at a time and then store them in a warehouse until some later date.
Digital print-on-demand print technology has changed the rules of the game forever by making lower minimum order quantities economical. Not only is it affordable to print smaller quantities of labels on demand, it's highly advantageous. Smaller inventories means lower warehousing costs. Obsolescence costs are eliminated because you aren't ever caught with pallets full of outdated labels. Plus, a variety of cost savings inherent in the digital production process are passed along to you:
No fees for ink changes and clean-ups.
No printing plates to replace.
No tooling or job changeover costs.
If you're still trying to keep costs low by ordering your printed production parts in mass quantities, it's time to rethink your strategy. Digital print-on-demand is often the preferred production technology for reducing total cost of ownership.
4 - Consolidate your printed parts vendors
All too often, manufacturers source labels and other printed production parts from a variety of vendors. One vendor to support their U.S. factories, a different vendor to supply factories in Mexico, a certain partner just for safety labels and someone else to print the technical literature. Not only is this a logistical nightmare for the manufacturer, it's also cost inefficient.
We saw this firsthand when Taylor was asked to help a major manufacturer of commercial-grade kitchen equipment. They were struggling to manage more than 20 label vendors for just one industry segment. Needless to say, it created a host of problems:
Vendor management was needlessly complex with multiple contracts and redundant, time-consuming administrative work.
The company's engineering staff was forced to juggle conflicting printed parts specifications and approval processes.
The chaotic, fragmented approach to label sourcing led to increased label costs and inconsistent production execution.
Taylor ultimately devised an enterprise labeling and technical literature management program for the customer that consolidated more than 20 legacy vendors into a single program. Along the way, we incorporated Lean Six Sigma principles, implemented a total cost improvement strategy, and mitigated line-down risk. What made all of this possible was the customer's eagerness to bring order to the chaos by consolidating vendors.
5 - Stop treating printed parts as a commodity
Printed production parts are key components in many manufacturing supply chains. However, manufacturers often view printed parts as a commodity. They assume that "a label is a label" and that the competitive bidding process will drive waste out of the system. As we've already seen, that's simply not the case.
By carefully analyzing the fit, form and function of printed production parts, it's often possible to unlock cost savings in ways you hadn't considered. For example:
Is there a way to consolidate multiple label substrates and styles into a single design?
Would a simple die size reduction reduce your materials costs?
Could your entire manufacturing process be streamlined if you changed to a different type of labeling technology altogether?
Cost reduction wins and productivity gains like these become possible when you start viewing printed parts as an integral part of your manufacturing operation. Be sure to seek out a label supplier with the in-house expertise and engineering savvy to help you identify those hidden opportunities.
Taylor: Unmatched Expertise in Durable Industrial Labels
A recognized leader in the durable label industry for decades, Taylor produces more than 50 billion labels each year for customers in nearly all major manufacturing sectors. On any given day, our label production facilities are creating in-mold labels, smart labels, thermal labels, sophisticated form-label combinations and more.
We're far more than just a label converter, however. Taylor takes a proprietary approach to label manufacturing that we call our Methodical Assessment of Printed Parts & Processes, or MAP3 for short. Our in-house materials science experts and technical consultants look at the desired fit, form and function of each label to engineer a more cost-effective, higher performance and process-friendly label.
MAP3 effectively combines the five cost-reduction strategies described above into a single, repeatable business process. Want to learn more about MAP3? Simply contact a Taylor durable label expert.