A few weeks ago, a press release hit the wire that likely went unnoticed by most people in the business community. However, for those of us engaged in the manufacturing of adhesive labels, it was a troubling piece of news.
Pixelle Specialty Solutions, which was recently acquired by H.I.G. Capital, is the largest manufacturer of specialty papers in North America. Unfortunately, Pixelle recently announced that it will be closing its paper mill in Jay, Maine, in the first quarter of 2023. Paper mill closures have been a regular occurrence for years but this closure hurts more than most.
According to current estimates, the Pixelle mill in Jay, Maine, supplies about 20% to 30% of the release liner paper consumed by North American label manufacturers. In a manufacturing process, losing up to 30% of the available supply of any raw material is problematic. For label liner paper, it's even worse.
To understand why, let's first take a minute to learn how labels are made.
Labels 101: The 5 Layers of an Effective Label
A typical pressure sensitive label is made up of five layers or components. They are as follows from the top down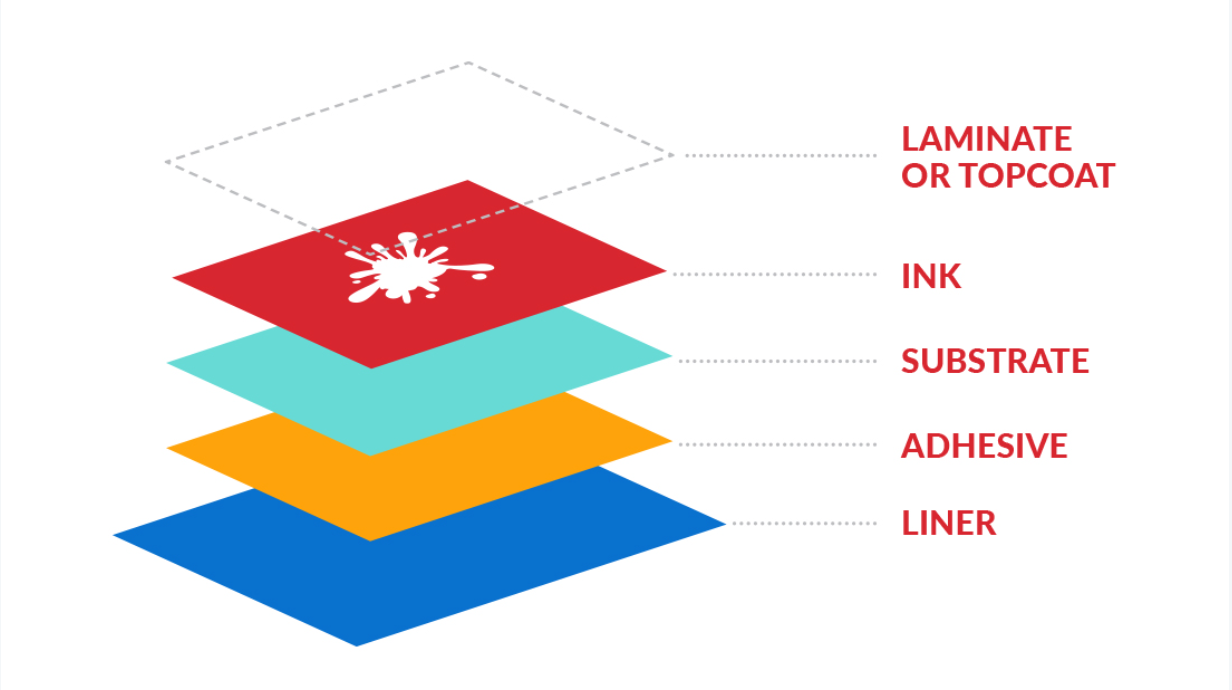 Strictly speaking, the lining paper ends up being a waste byproduct of the label manufacturing process. When it comes time to apply the label, the liner is simply peeled off and discarded. However, the technology behind an effective label liner is anything but simple – and that's where Pixelle's paper mill re-enters the story.
Label Release Liner in Critically Short Supply
What makes the Pixelle mill unique is its ability to manufacture specialty label release paper. From an engineering standpoint, label liner paper is indeed special for two reasons.
It's typically manufactured using a "supercalendered" process that results in an unusually smooth surface.
It's coated with silicone to keep the adhesive from forming a permanent bond with the liner paper, thereby allowing it to "release" cleanly. Thus, the name "silicone release paper."
Without the supercalendered surface and silicone coating, it's just paper – and it can't be used as a label liner. The Pixelle mill is unusual for its ability to manufacturer paper of this type. As noted above, they make a lot of it.
Even with the Pixelle mill in operation, the label manufacturing industry has been struggling with a global paper shortage for several years. That shortage was made worse in mid-2022 when workers at UPM's paper mills in Finland went on strike for an extended period. One of UPM's specialties is – you guessed it – label liner release paper. The gap in production resulting from the UPM strike is still reverberating through the industry and now Pixelle's production volume is on borrowed time.
Supply Chain Strategies for Label Release Liners
All is not lost, of course. There are other manufacturers of label liner paper around the world. Other types of label materials can be used as label liners. Not all label manufacturing processes require liners. And, sourcing strategies will come into play as label manufacturers attempt to secure a portion of Pixelle's waning output.
Come back for Part 2 when we look at the bright spots in this story. The next installment of this blog will explain:
What label consumers like you can do to protect your supply of labels in 2023 and beyond.
What label manufacturers like Taylor are doing behind the scenes on your behalf.
Taylor: Leading the Way in Labels
As a recognized leader in the label industry for decades, Taylor produces more than 50 billion labels each year for customers in nearly all major market sectors. From pressure sensitive labels, in-mold labels, smart labels and thermal labels to sophisticated form-label combinations and more, Taylor creates many of the labels you encounter on a daily basis.
We also take a proprietary approach to label print management. Through our Methodical Assessment of Printed Parts & Processes, also known as MAP3, materials science experts and technical consultants within Taylor look at the fit, form and function of each label. The outcome is an engineering solution that allows us to deliver the most cost-effective, strategically sourced, highest-performing and process-friendly label possible. Our strategic sourcing organization, in-house technical consultants and client care teams ensure our customers avoid line-down situations that could be caused by supply chain issues.
Looking for a better labeling solution? Contact Taylor to learn more about our expertise with labels.